A laminator is an essential tool for some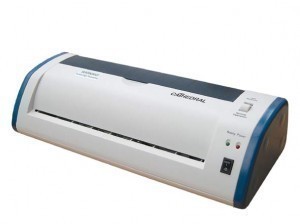 businesses, and even home users will find them useful at times. The following products should give you a perspective on what to expect should you decide to buy one.
Laminator Dimensions: Scotch TL901 Thermal Laminator
The Scotch TL901 Thermal Laminator measures 15.5 x 6.75 x 3.75 inches. The unit is most suited for home use and also for crafts. It can laminate items with a maximum width of 9 inches. It incorporates a 2 roller system and has two temperature settings.
The Scotch TL901 can be utilized on photographs. It can also laminate pouches (maximum thickness 5 mil). The adhesive application can be on one or two sides; this is ideal for self sticking labels.
The unit weighs only 5.5 lbs. The unit can laminate 8 ½ x 11" papers and other documents. It is also safe for children to use.
Laminator Dimensions: Fellowes Saturn SL
The Fellowes Saturn SL measures 8 x 21 x 4 inches and weighs 9 lbs. The device is designed for use in both the home and office. The unit has stand up feet, developed for the wrap around cord. This also lessens the space it occupies. It also comes with a carry handle so it can be moved around.
There is also an anti-jamming feature built in. The two temperature settings allow for the lamination of hot pouches (3 -5 mil). The Fellowes Saturn SL also supports 8 ½ x 11 and tabloid sized papers (up to 9 x 12"). Heating time takes less than six minutes. Laminating a letter sized paper takes a minute.
Laminator Dimensions: Xyron 145611 ezLaminator
The Xyron 145611 ezLaminator measures 16 x10 x 8-1/5 inches. A refillable machine, the ezLaminator does not need batteries, electrical power or heat. Ideal for making scrapbooks or various cards, the machine can also be used for laminating photos.
The package comes with a 30 ft two sided cartridge. This cartridge can be removed and swapped with an adhesive cartridge, suitable for making stickers. The unit can also laminate documents up to nine inches wide and 1/8 of an inch thick.
It doesn't require any warm up time. A hand crank is used to control the machine. A cutter is also included for use on documents.
Laminator Dimensions: QuikFinish PL150
The QuikFinish PL150 measures 22 x 8.3 x 5 inches and weighs 9 lbs. The PL150 can laminate 3-5 mil pouches. It can also laminate documents and papers 14 inches wide. There is also hot, foil and cold lamination. The PL150 can also shift color foil for laser printer or photocopy.
The warm up time is around three minutes. It comes with an auto shutdown feature. It will be activated if the machine isn't used for an hour and a half. The QuikFinish PL150 also comes with controls for adjusting the heat settings.
The laminator dimensions one should get depend on what'll it be used for. You just need to look at the stuff you need to laminate and base your decision on their size.