Stainless Steel Soap Sizes
A stainless steel soap is so named because it is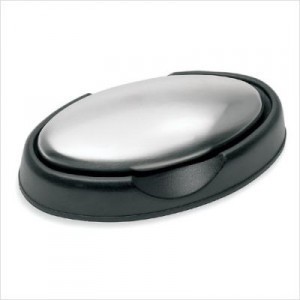 often shaped like soap. The purpose of these stainless steel soaps is to get rid of strong odors from the hands. By rubbing one's hands on the soap, smells like garlic, fish and other substances will be removed.
Stainless Steel Soap Sizes
These soaps come in different sizes. The Amco Rub Away Bar measures 4 x 2 x 4 inches and weighs 8 ounces. The Orka Deos stainless steel soap measures 2 x 1 x 3.5 inches. The Blomus stainless steel soap is 4.5 x 2.7 x 1.2 inches. Many other sizes are available. In terms of shape the most popular is that of a soap bar. However, any shape will do. The shapes used by manufacturers are for ergonomic reasons only.
How it Works
It should be stated that no matter what the stainless steel soap size is, it is still made of regular stainless steel. In theory, any stainless steel product such as a spoon or fork should be able to remove the smell too.
Stainless steel is made by adding a layer of chromium to the steel. There is no accepted scientific explanation as to how stainless steel soap works. One theory is that the chromium added is responsible for getting rid of the smells.
Another theory is that rubbing the hands on the stainless steel soaps gets rid of the grease and oil that are producing the smells. The stainless steel doesn't actually do anything to remove the smell. But using the soap with running water loosens the skin tension. This helps in getting rid of the smell, no matter what the stainless steel soap size is.
But if this theory is true, other materials like plastic should get rid of the smell. But so far only stainless steel has been shown to work.
There is another theory. This one states that the main ingredients of stainless steel, chromium oxide and chromium, interacts with sulfur compounds. These are usually included in some strong smelling food.
According to this theory, food handled by the cook leaves chemicals that interact with the stainless steel. What happens is that the chemicals causing the smell combine with the bar and is removed from the skin.
Features
While there are still questions about its efficiency, many people believe that it does work. The number of products sold today indicates that many believe it does work. In fact there are cooks who believe that it works much better than the regular soap.
Other Uses
Aside from getting rid of smells, the stainless steel can have other uses. Some of the products sold have nail cleaners included. Because these soaps come in different forms and shapes, they are often used for decoration as well. They can also be used to hold regular soaps. Some use them as dispensers for lotions too.
Before you buy one, verify the stainless steel soap size. Some of the products you see online come in varying sizes. Read the product dimensions so you know how large it actually is.