Wedding Flower Bouquet Sizes
You often have to say it with flowers when it comes to weddings.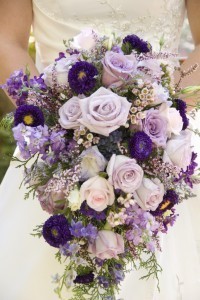 That is why there are of many types bridal bouquet offered in flower shops. To choose, you have to understand more about the types and what wedding flower bouquet sizes would available.
Here are some of your options with a few details on the wedding flower bouquet sizes you may prefer:
The Nosegay Wedding Bouquet Type
One of the most common types of bridal bouquets is the Nosegay. This type is, basically, arranged in a round shape with more greenery but fewer flowers included.
Its measurements are:
Some offer this bouquet with around 11 inches in diameter. Others have specific overall dimensions of about 31 inches by 31 inches. And other flower shops have a cascade of about eleven inches by 21 inches.
The Posy Bouquet Type
This type of bridal bouquet has approximate dimensions of around 11' for its width by 18" for its length. Some of the shops offer bouquet dimensions with a diameter range of about 9 inches to about 18 inches.
In arranging this, you may ask to have the stems of the flowers removed, left alone, or wired together.
The Beidermeier Bridal Bouquet Type
If you choose this type of wedding bouquet, you would also have a round shape of bouquet to celebrate your wedding with. What's nice about this type is that the flowers included in the circular arrangement pattern are similar. The specifications would be around 28 inches for its height, 24 inches for its width, and about 19 inches for its plate diameter.
The Crescent Wedding Flower Arrangement
What's in store for you if you choose this type of flower arrangement for your wedding? First, you would get either an asymmetrical or symmetrical crescent bouquet – where either the right or left portion of the arrangement beautifully arched down. For a symmetrical pattern, the same length would be at both of its sides. For the asymmetrical arrangement, you would see that the length is longer at one side.
Approximately, the measurement would be around 33cm wide and 55 cm long.
The Single Stem Bouquet Type
For this bouquet, a flower stem, which is tied with a large ribbon around it, would be yours to celebrate the wedding vows with. Simple and yet very appealing for those who like to keep things simple.
Overall dimensions for this would be around 3 inches wide and 3 inches long. Others have about 24 inches high, and around 2 and ¼ to 4 inches across.
These are just a couple of those options for the wedding flower bouquet sizes and types that are offered by flower shops. To learn more, you may have to pay a quick visit either online or to the nearby shop to see more of the available choices you have to help make your wedding a memorable one with the right bouquet to color the celebration with.