Manual can openers are often hard to use especially if your particular can opener has the habit of getting jammed all the time. Holding the can in one hand while trying to operate your manual can opener to get the top off can be pretty challenging most of the time.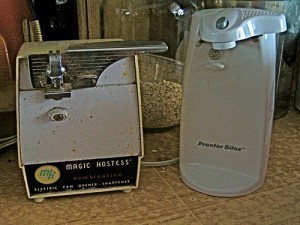 It's not only hard work, but it takes up a lot of your time – time you could have spent preparing your dishes to get everything ready on time and with much less effort.
This is where an electric can opener becomes handy.
What is the Size of an Electric Can Opener?
While there are various sizes of can openers, these are mostly sized in a way that makes them easy to handle and can fit into any corner on your kitchen counter or cupboard.
One of the factors used in determining the size of an electric can opener is the maximum height of can it can open.
So for instance, "What is the size of an electric can opener?" that can open a can with a maximum height of seven inches; is that the opener is approximately 9.5 inches in height.
For good balance and support, a wide base is recommended. A can opener that has a height of 9.5 inches may come with a base size of about 4.5 inches.
This type simply requires you to place the can under the cutting blade, turn the power on and the electric can opener will do the rest.
Handheld Electric Can Opener
There is another type of electric can opener which is a handheld device that can usually fit the palm of your hand. To answer "What is the size of an electric can opener?" that is handheld, this is usually around 3.75 inches in diameter.
This makes the opener very portable and you can take it with you when you go on vacation.
Multi-Purpose Electric Can Opener
Now, if you truly want to enjoy your electric can opener, you can get one that not only opens most can sizes; from small to big, but also one that functions as a bottle opener and a knife sharpener!
For this type, you will truly get your money's worth.
What is the Size of an Electric Can Opener that Serves Other Purposes As Well?
This type of electric can opener can measure about eight and two-fifths inches in length by eight inches in height by five and one-half inches in width.
If you're unsure of what type of electric can opener to get and also as to the answer to your question "What is the size of an electric can opener?" that will work best for you; you may get online and check out various electric can openers sold by leading kitchen gadget manufacturers.
You may also check reviews on these products so you can get firsthand information from customers who have actually used specific electric can openers.