When choosing flashlights, the brightness is of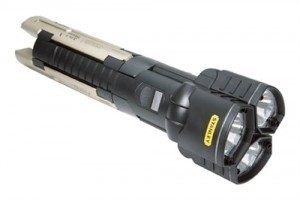 course the primary consideration. However, their size also needs to be assessed as portability can be critical.
Flashlight Dimensions: Neiko Super Bright
The Neiko Super Bright dimensions are 6.8 x 1.5 x 4 inches and it weighs 5.9 ounces. It is an aluminum flashlight with nine LED lights. These lights are good for up to 100,000 hours. The flashlight is water proof so it can be used in the rain. The unit is also resistant to shock.
The Neiko Super Bright uses three AAA batteries. The battery life is good for 20 hours. The flashlight generates white light instead of heat. This is possible because it uses nine LED (light emitting diode) lights. It is small enough to fit in a tool box or any drawer.
Flashlight Dimensions: Denali Super Bright 9-LED
The Denali Super Bright 9-LED measures 3.6 x 1.1 x 1.1 inches. The unit is fitted with nine bright LEDs. These lights generate white light and are good for 100,000 hours. The body is made of anodized aluminum barrels.
The flashlight is also designed for all weather use and water resistant. Shock proof, the flashlight comes in three finishes: metal, black and silver.
The flashlight is compact enough it can be put anywhere; in the RV, drawer or even your purse. The LED bulbs included aren't just brighter than ordinary bulbs; they also need less power so last longer. Because of the aluminum body, it isn't vulnerable to corrosion.
Flashlight Dimensions: Stanley 95-155
The flashlight weighs 2.4 pounds and it can be separated into three lights. Each has the power to produce 20 lumens and utilizes a 31/2 watt high LED. The tripod included with the item is designed to make it a hands free utility. The three lights are also multi directional (120 degrees).
The LED bulbs used means less battery is consumed. Each flashlight uses two AA batteries (for a total of six). A glowing ring is included to indicate if the unit has been accidentally left on.
A single button is used to switch on all 3 lights. The 3 lights are independent of each other; if one fails to work, the others will. The tripod is 1 touch release and there are rubber protectors for the legs.
Flashlight Dimensions: Streamlight 73001 Nano Light
This 1.47 inch long keychain flashlight weighs 4 ounces. The casing is machined aircraft aluminum. It also has anodized finish. To provide maximum performance the LED section is parabolic shaped. The white LED is 5 mm and good for 100,000 hours. It is shock resistant and also water proof.
The unit also has a snap hook (non rotating). This allows for 1 handed operation when the flashlight is linked to a keychain. The maximum run time is eight hours, and it utilizes four LEC1 coin cells. The Streamlight 73001 Nano Light is colored black.
Flashlight dimensions may not seem important but it is. During emergency situations, the ease with which you can carry it becomes an issue.