An air rifle is a great way to hone your target shooting skills without going to a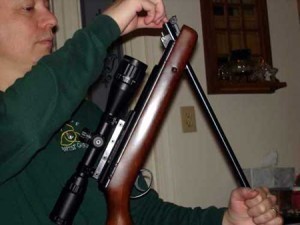 firing range. Below are the dimensions of some rifles and their other technical specifications.
Air Rifle Size: Crosman 760
The Crosman 760 air rifle measures 36.6 x 4.8 x 2.2 inches and weighs 2.8 lbs. It is a caliber 0.177 with a velocity of 625.00 ft/sec. This air rifle can shoot .177 pellets or BBs. It is a starter rifle and made of synthetic material. The Pumpmaster can take up to ten pumps, sending BBs 625 fps or pellets 600 fps.
The grip has checkering as well as indents, making it easier to handle. The pellets are put in a five shot clip. The BBs have an 18-shot magazine, which is fed via a 200 shot reservoir. It is equipped with a fiber optic front sight.
Air Rifle Size: Ruger Blackhawk .177 caliber
The Ruger Blackhawk is 44 4/5" long and weighs in at 8 1/3 lbs. It is also fitted with a 4 x 32 mm scope. It comes with 1,000 F.P.S. speed and with spring piston. There is no need for CO2 cartridges. The barrel and receiver are blued steel and is ambidextrous in design (weatherproof).
Other features include the adjustable rear sight, rubber recoil pad and the fixed front sight. The sights are both fiber optics. The 4 x 32 mm scope has duplex reticle with a POV of 32' (100 yards). The mount is included in the package and it comes with an automatic safety feature. The gun can shoot accurately even without the scope.
Air Rifle Size: Crosman 1077
The Crosman 1077 measures 39.5 x 5 x 2.2 inches. It is a 0.177 caliber and has a velocity of 625.00 ft/sec. It is a 12 shot repeater and works on 12-gram CO2 cartridges. The stock is synthetic and has a checkered pistol grip. The air rifle may also be equipped with a scope on the 11 mm dovetails.
The air rifle can shoot accurately even up to 25 to 35 yards. This air rifle is mainly suited for close range firing and shooting. It is good for about 80 shots before needing a new powerlet.
Air Rifle Size: Phantom 1000X
The scope of the Phantom 1000X is 4 x 32 mm and has a velocity of 1000.00 ft/sec. It is a caliber 0.177 and the windage can be adjusted with your hands. The air rifle lets you shoot a thousand pellets every second. The spring piston rifle is designed to be light and easy to carry as well.
The synthetic material used is for all weather and has a Monte Carlo buttstock. The forearm is checkered as is the pistol grip. The dovetails are 11 mm so fitting in a scope is easy. Both the rear and front sights are fiber optic. Shooting is customizable with its 2 stage adjustable trigger.

After getting to know the various air rifle sizes, you can start looking for one with confidence, having an idea of what features to look for. Once you load it, you can start shooting.