A little spherical toy that is fun and enjoyable to play, a marble is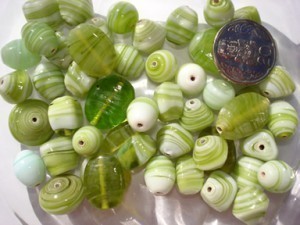 commonly made out of agate, clay or glass. Throughout the years, it has been part of many kid's games. It comes in various beautiful and interesting designs, which contribute greatly to its aesthetic value. It is a highly popular toy in countries like Australia, Canada and Taiwan. Aside from these facts, it is also good to know the size of a marble.
Marble Sizes
The sizes of marbles vary. They usually range from as small as 0.635 centimeter or ¼-inch to as big as 7.75 centimeters or more than 3 inches. However, the most common measurement for this toy is 1.25 centimeters or ½-inch. For display purposes, some variants are as big as 30 centimeters or 12 inches wide.
Additional Facts and Other Interesting Details
Before the inexpensive mass production of ceramic marbles in the 1870s, marbles were usually made from glass, stone or clay. In 1846, a glassblower from Germany came up with the device used for creating marbles. In the United States, S. C. Dyke performed the first mass production of clay toy marbles in the early parts of the 1890s in Akron, Ohio.
James Harvey Leighton was credited for the first production of glass marbles in the U.S. Today, there are two toy marble manufacturers based in the U.S., namely Marble King of Paden City in West Virginia and Jabo Vitro of the unincorporated community of Reno in Ohio.
Marbles are part of a fun game referred to as grids, which was very popular in the United Kingdom in the early parts of the 1990s. This marble game is very similar to rolley hole or rolly, the primary objective of which is to put the small ball right into the hole. The game has an interesting version in Taiwan, which involves at least 2 to 6 individuals playing in a five-holed course.
In Canada, a version of this game involves two, three or sometimes even four individuals using only a single hole. It can be played individually or by pair. Within the town of Derry in New Hampshire, an interesting marble game involves the use of feet instead of hands to shoot the marble into a hole. It became popular in the latter parts of the 1970s.
Between the 1950s and the 1960s, an exciting game called Bunny Hole was very popular in Australia. One of the basic rules of the game is to hit the opponent's marble at least four times. Marbles are available in various types, some of the most popular of which include the commie, the turtle and the toothpaste. They are the subject of different videogames like the 2007 Xbox 360 and PC game entitled Switchball.