Because cooks use skillets in different ways, manufacturers come up with various models.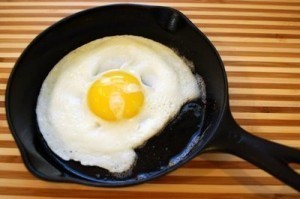 They are all used for cooking, but the way they are built hinge on the amount of food they are expected to handle.
Skillet Dimensions: Lodge Logic 12-Inch
The Lodge Logic skillet measures 19 x 13 x 6 inches and weighs 8 pounds. It is a pre-seasoned skillet and has heat retention capabilities. There are two handles on the Lodge Logic 12-Inch to help with the lifting.
The skillet can be used for cooking bacon, pancakes and other food. The cast iron allows for even distribution of heat. The skillet can also be used to roast chicken and bake apples to a nice crisp.
The skillet also has two side lips to make pouring easier. Being pre-seasoned means the food will not stick to the pan. However, vegetable oil can be applied to it too.
Skillet Dimensions: Cuisinart 8-Inch
The Cuisinart skillet measures 14.4 x 8.7 x 3 inches and weighs two pounds. The skillet has Quantanium nonstick coating so food does not stick to the surface. The skillet also has stay-cool handles.
A shatter free tempered glass can be purchased and fitted on the skillet. The 8-inch is safe to use up to temperatures of 500 degrees F.
The skillet can be used to cook eggs, fish, steaks and other meats. It is big enough to cook for two people. The titanium reinforcement adds to its strength. The skillet is cleaned by hand washing.
Skillet Dimensions: Presto 06852
The Presto 06852 skillet is a 16 inch skillet and weighs 9 lbs. It comes with high side walls that allow for extra cooking space and serving more meals. The skillet is large enough to roast, fry, grill and bake large amounts of food.
It may also be used for griddling and braising. The skillet has heat control included as well. The lid is tempered glass, letting you see what is happening to the food.
With the lid, you can cook bacon without worrying about splatter. The Presto 06852 can also function as a buffet server. The skillet is also non-stick.
Skillet Dimensions: Lodge Logic Cast-Iron 8-Inch
The Lodge Logic skillet measures 13.3 x 8.7 x 1.8 inches and weighs 1.2 lbs. Made of cast iron, it allows for slow and even heating. The skillet is also pre-seasoned so food does not get stuck on it. There are also two pouring lips on the skillet.
The loop in handle lets you hang the skillet easily. The Lodge Logic Cast-Iron 8-Inch is cleaned by washing with hot water and a brush. The skillet can be used on stovetops or an oven. At eight inches, the skillet is ideal for singles and those that like to work with light frying pans.
As you can see, the skillet dimensions range in size from small to large. When looking for a frying pan, always look for those that fit your requirements. Getting an extra large pan even if you do not need it will just add to your cleaning chores.