Anyone who intends to sell newspapers should be aware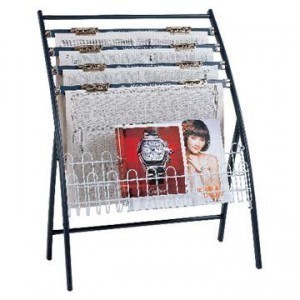 of the newspaper stand sizes. This might not seem important, but it is. Unless you pick the right unit, those newspapers may not be able to fit in properly.
Various Newspaper Stand Dimensions
There are many types of stands available in stores today. For example, some newspaper stands measure 890 x 700 mm. These are sufficient for some newspapers, but if you need bigger ones, there are stands measuring 700 x 1200 mm.
There are also newspaper stands sold in China measuring 600 x 300 x 1000 mm. While there are currently no standards for newspaper stand sizes, the 600 x 300 x 1000 is quite popular.
Other newspaper stands are 1175 mm high, 1850 mm wide and 450 mm deep. This size is also popular among businessmen because it provides a lot of room. The larger ones however, are more expensive than the smaller ones. The other newspaper stands measure 640 x 350 x 880 mm, 600 x 300 x 800 mm, 720 x 500 x 300 mm and others.
Other Newspaper Stands
A look at retail and other online stores will show stands of different sizes. Some of the newspaper stand sizes you will come across are 1300 (H) x 490 (W) x 350 (D), 1200 (H) x 380 (W) x 330 (D) and 800 x 500 x 300.
Other sizes you will see are 640 x 350 x 880 mm, 120 x 480 x 370, 420 x 150 x 120 and 300 x 200 x 300. Other measurements may be set in inches. For example, there are racks that measure 44 x 34 x 16 inches (H x W x D), 48 x 44 x 28 inches and 54 x 34 x 36 inches.
Construction and Material
As varied as the sizes are the materials used for the construction. There are stands with powdered coating, while others have aluminum rod shelves and nylon clips. Others have upstands and numerous shelves.
Some newspaper stands have an acrylic finish, while others use paint. There are also racks made of wood. Many of these are compact and made for tabloids. Depending on the size, broadsheets may or may not be placed in them.
The easiest way to determine what newspaper stand sizes to use is to be aware of what papers you want to sell. If you intend to sell various types, then you should get the biggest one possible.