Rowing is one of the best forms of exercises as you get a full body workout when you row.
Whether you are training for a competition or you simply want to start on rowing as a form of exercise, an indoor rower will be most helpful.
It is not often that you can go to the gym to use one of the rowing machines there hence; your best option could be to get your own indoor rowing machine.
Before getting your rowing machine however, it is important that you know the size of rowing machine units so you'll know how much space needs to be allotted for it as you need room for movement so you won't bump your elbows into walls and such.
Size of Rowing Machine
Basically, the size of rowing machine units from whatever manufacturer or whatever brand is not much different from one to the next.
While there are several types of indoor rowers readily available in the market today, you will find that the size of rowing machine units is designed in a manner that they require not too much space.
You can find a size of rowing machine that measures approximately 8 feet in length by 24 inches in width with a seat height of around 14 inches and a machine weight of about 57 pounds.
Stored dimensions for this size are approximately 25 inches long by 33 inches wide by 53 inches high.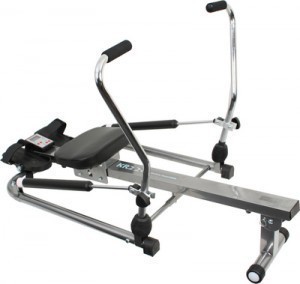 There is also a slightly shorter size of rowing machine that you can find in stores today and this is roughly around 76 inches in length or about 6.33 feet by 24.25 inches in width with a height of 33 inches and a seat height of around 21 inches.
For this size of rowing machine, the machine weight is approximately 92 pounds.
Both these sizes of rowing machines can accommodate users with a maximum weight of up to five hundred pounds.
Why Choose Rowing Over Other Exercises?
Most fitness buffs prefer to use a rowing machine instead of the other exercise equipment available today because they feel that they get a full body workout just from rowing.
When you row, you work on your arms, legs, abs, back and chest. In addition, this is a low-impact form of exercise as it is gentler on the knees and ankles. This is also considered as an excellent cardiovascular exercise.
For those looking to burn more calories and get into shape, rowing could just be what you need as it uses various muscle groups.
Above and beyond the physical benefits, a lot of rowers find that rowing helps relieve stress as they find rowing relaxing on the mind.