Necklaces can make any outfit look more elegant no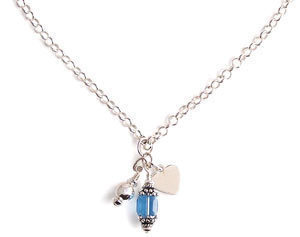 matter the occasion. As a matter of fact, a simple necklace is enough to add more style to your look and you won't need to wear any other type of jewelry.
However, wearing the wrong type of necklace can also turn your style into a fashion faux pas. When choosing necklaces, one of your considerations should be the size. There are sizes that fit certain types of clothing hence; it is important to also take in the size factor after you have decided on the design of the necklace.
Necklace Sizes
To determine the size of the necklace that you need to get that will best suit your outfit, check the neckline and the style of your clothes, particularly the top. A collar-type necklace is worn around the neck, just about an inch directly below the throat.
This measures approximately twelve to thirteen inches and is best worn with tops that are V-necked, boat-necked or Sabrina-style neckline.
A choker on the other hand is a bit longer. This measures about fourteen to sixteen inches and is ideal for any type of neckline.
A princess necklace meanwhile measures around seventeen to nineteen inches and is considered as the most popular necklace size. This is best worn with low necklines.
For business attires, a matinee-length necklace is recommended. This is between twenty and twenty-four inches.
The most versatile length on the one hand is the opera length. This is approximately around twenty-eight to thirty-four inches and can be worn as a single strand or you may also make another loop around the neck for a bit more style.
This type can be worn with both casual and evening wear.
Finally, there is the rope length. This is typically forty-five inches or longer and is worn as a double strand.
Choosing the Right Necklace
Once you have the length that you want, you can now choose necklaces based on their design. For more formal occasions, a pearl necklace is ideal. For casual wear, a simple strand with a small pendant could instantly glamorize your outfit.
There are also several types of necklaces based on the materials used to make them. Costume jewelries are available to glam-up evening dresses for dates. Gemstones and beads are also used in necklaces to add more accents, enhancing the design and the style of the necklace.
Several popular fashion designers have their own line of jewelries including necklaces. You can check these out online to give you an idea of the different necklaces that you can choose from, to match the outfits that you have.