A truck trailer is a highly essential means of transporting goods from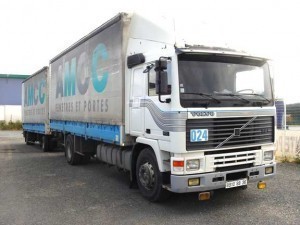 one particular point to another. As an important part of business, this articulated vehicle is also known by other names such as 18-wheeler, transfer truck as well as Mack truck. It is made up of a semi-trailer, which is used for carrying the freight, and a tow engine, which often comes in the form of trucks, prime movers or tractors. For a better understanding of this articulated vehicle, it is also good to learn the different truck trailer dimensions.
The Dimensions of a Truck Trailer
Trailer trucks come in different sizes. In Australia, each truck can only carry up to two trailers. In rural parts of the country, the maximum length is 85 feet or 26 meters. In urban areas, the limit length is much lower at 62 feet or 19 meters. Aside from these, there are B-double trucks in the country, the average size of which is 82 feet or 25 meters. The average capacity of these truck trailers is 137,788 pounds or 62.5 tons.
In European countries, the allowed sizes of truck trailers are somehow different. For instance, the trucks in Sweden can be as long as 78.7 feet or 24 meters. Meanwhile, other European Union nations like the Netherlands, Denmark and Norway permit trucks that are 82.8 feet or 25.25 meters. In terms of weight, the limit is usually close to 40 to 44 tons or 80,000 to 88,000 pounds.
In the United Kingdom, the truck trailers usually measure about 45 feet or 13.5 meters long. For a tractor coupled with a trailer, the average length is 50 to 55 feet or 15.25 to 16.75 meters. The maximum gross weight allowed is 48.5 tons or 97,000 pounds.
In the United States and other countries in North America, they usually allow LCVs, which stands for longer combination vehicles. One of these is called triples, which is made up of three trailers, each of which must be at most 28.5 feet or 8.7 meters. The maximum weight allowed for this is 58.5 tons or 129,000 pounds. The second type of LCV is called turnpike doubles, the components of which include 2 trailers measuring 48 feet or 14.6 meters each. The maximum weight permitted on this is 66.7 tons or 147,000 pounds.
The third type of LCV is referred to as Rocky Mountain doubles. Each of this is comprised of a trailer approximately 40 to 53 feet or 12.2 to 16.2 meters long and a pup that is 28.5 feet or 8.7 meters long. This kind of LCV must not go beyond the limit weight of 58.5 tons or 129,000 pounds.