An ambulance is a special kind of vehicle primarily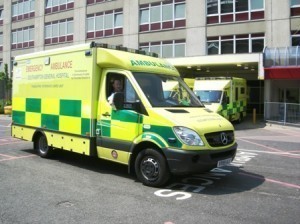 designed to transport injured or sick individuals to hospitals and other registered places of treatment. It comes in various forms, the most common of which include station wagons, vans and trucks. It offers pre-hospital treatment, specifically to administer care during medical emergencies to people with acute injuries or illnesses. Aside from these basic facts, it is also good to learn about other interesting details about it such as the different ambulance dimensions.
The Dimensions of an Ambulance
Before an ambulance can operate, it must first pass a number of different vehicle physical dimensional specifications. In terms of length, an ambulance must not go beyond the overall length of 22 feet or 671 centimeters. This specified limit excludes the bumper guards as well as the rear step but includes the bumpers. To accommodate crew cabs, larger bodies or special equipment, it is best to acquire a vehicle that is slightly bigger than this.
In terms of width, the vehicle must have single rear wheels that measure somewhere from 79 to 84 inches or 200 to 213 centimeters each. The maximum body width of the vehicle must not go beyond the limit of 96 inches or 244 centimeters, with lights, mirrors and other safety appurtenances excluded. At curb weight, the overall height of the vehicle must not go beyond the 100-inch or 279-centimeter limit, with the roof-mounted equipment already included. Two-way radio antennas are excluded from this specification.
The minimum ground clearance is set at 8 inches or 20 centimeters. For chassis-mounted components, the ground clearance must be somewhere close to 6 inches or 15 centimeters. The standard floor height of an ambulance must be no more than 33 inches or 84 centimeters for Class 1 vehicles (4×2), while the standard for Class 2 vehicles (4×4) is 38 inches or 97 centimeters.
Additional Facts and Other Interesting Details
Based on historical records, the use of an ambulance started during ancient times. Then, incurable patients were transported by force on carts. In 1487, its use as an emergency transport started in Spain. The technological advancements in the 19th and 20th centuries contributed to the development of self-powered ambulances. This particular type of vehicle is subdivided into four different functional types, namely the charity ambulance, response unit, patient transport ambulance and emergency ambulance. They differ from one another in terms of primary purpose or function.
Ambulances are made from different types of vehicles. These include vans, sport-utility vehicles and pickup trucks. Likewise, all-terrain vehicles, bicycles and motorcycles can also be used during medical emergencies. Each of these vehicles must have all-important features like trauma lighting, mobile data terminal as well as two-way radio.