Patio set sizes will depend on the type of set you buy.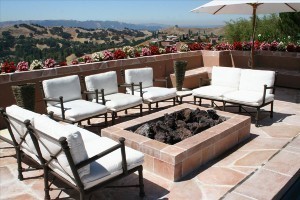 For example, patio dining sets can come with 4, 6 or 8 chairs. A typical patio chair measures 25.5 W x 26 D x 38 H inches. Tables measure 64 L x 64 W x 29 H inches. The number of chairs included will of course affect the dimensions of the whole set.
Patio Space Considerations
Before you buy a set, you must decide what kind of patio you want to set up and how much space is available.
If space allows for only a two-seat bistro table, the size of your patio should be 6 to 7 ft in diameter (this is the minimum). Assuming the patio set size you buy is appropriate, it will leave enough room for the chairs and tables. There will also be room to walk around the seating area.
If you want to put in a dining table with chairs, the minimum space required is 12 to 14 feet. This size will be sufficient for a 48" round table. It also gives people space to walk around comfortably. But if the table is bigger, you will need more space.
A living room patio will include a couch, a coffee table, several chairs plus other accessories. This will necessitate a minimum diameter space of 16 to 18 feet. It is also a good idea to have at least a 3 foot pathway furniture free. This will permit for excellent traffic flow.
Once you have determined the type of patio you want to set up, you can focus on the patio set size and what pieces to buy.
Patio Chairs and Tables
There are many types of causal patio chairs including Adirondacks, outdoor rocking chairs, folding chairs and loungers. The Adirondack chairs were conceived in New York during the 1900s and have deep seats and spacious arm rests. For something more formal, use high back love seats or dining chairs. The dining chairs are often sold in sets.
There are many types of patio tables to choose from. If you want something small and cozy, the bistro table is fit for two people. This is suitable for small patios and balconies.
The outdoor coffee tables are bigger and more suited for living room patios. If you need a table for 4 to 6 people, get one that measures 36 to 46 inches.
Styles
If you want a modern look, get an aluminum patio dining set. For something natural, there are sets made of oak, cedar and other wood. If you want that outdoor café atmosphere, you can buy a bistro patio set. Most of these sets are sold with two to six chairs, but some come with eight. Others may include a bench and some accessories.
In the end, the patio set size will be determined by the amount of space you have. You need to make sure that the set you buy is appropriate. This is what will make your patio look attractive and be comfortable.