Size of Split Type Air Conditioners
The many different split type air conditioner sizes are intended to accommodate the needs of different individuals and establishments. Some units measure 24.5 x 14.2 x 20.2 inches and weigh 99 lbs. However, other units are larger and have dimensions of 34.5 x 24.2 x 30.2 inches. Some of these larger units weigh over 120 lbs.
Overview of Split Air Conditioning
These are units with two major components distinct from one another. One is placed outside the establishment and the other is inside. Almost all central air conditioners are of the split type. There are also units known as mini split air conditioners.
These function in a similar fashion. However, they do not employ ducts to release air. These are known as ductless systems. These are capable of cooling single or multiple rooms.
Main Components
The component outdoors is known as the compressor. Regardless of the split type air conditioner sizes, this is always the one used to handle condensation and cool the air. This eliminates the need to look for ways to drain the water. The interior part is called the blower. Its task is to distribute air inside the building.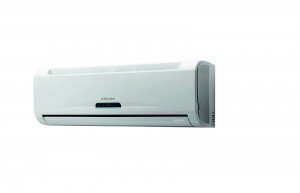 The process is achieved via the forced air system. The system involves the use of numerous ducts and a fan. Together with a vent, they release cool air into the rooms of the house. The intake vent puts the air back in the system.
Mini Split Systems
This is more suited for homes without ducts. It is also applicable for those that only want select rooms to have air-conditioning. This is easier to install than the other type. There is no need to cut into walls or manage running ducts. Most of these are more efficient than the window air conditioners. The drawback is they are more expensive.
How the Mini System Works
These operate by setting up the air handling component in the chosen room. Lines are hooked up to the component outside. One of the lines will relay the coolant to the interior component. The outer line removes condensation. Numerous interior components have to be installed for multiple rooms. This entails drilling at the outer walls.
No matter what the split type air conditioner sizes you choose, make certain the unit is capable of handling your requirements. In some cases, you will have to calculate the home's specific needs. Too much power will lead to humidity problems.