Belts usually finish off a certain look. It is an important accessory that will hold together your outfit – literally and figuratively. For women, belts play an important function of style. It defines an outfit, making it even more appealing than it already is.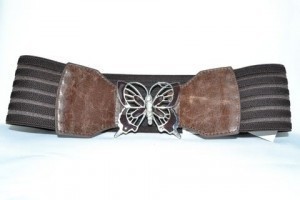 If choosing your belt's design is important, serious consideration should also be given to size. Anything that doesn't fit – may be too loose or too tight – can break your style. It is important that you know how to choose the proper size.
Belt Size Chart
There are available belt size chart for women. This will help guide women in their quest for the right fit. Ideally, you need to measure your waistline and add up about 2 inches to determine the size of your belt. However, this rule does not apply to unique belts and those with elastic bands. The rule applies only to pants belts. For belts that are used for dresses and other fashionable outfits, you may have to find an exact size as your waistline.
Women's belts are usually categorized as XS, S, M, L, and XL. The size XS or extra small measures 24-26 inches; for S or Small, the belts measures 28-30 inches; M or Medium-sized belts measures 32-34 inches; L or Large belts measures36-38 inches.
There are also plus-size belts that are as unique and as stylish as the regular ones. Since they are intended for women who are not blessed with a supermodel type of body, plus-size belts are designed to flatter curves and hide in some of the flaws. They also usually come in extravagant designs to take away the attention for the flabs and draw it to the belt or the waist area.
Finding your Belt
There are many types of belts available for women. There is really no limit as to the style, design, color, and even shapes. Then again, there remain the classic designs, which will go well with classic or smart casual outfits. The designs for pants belts are different from those used to accentuate dresses and skirts.
All in all, you will have to decide on the type of belt to buy, depending on the kind of outfit you want to match it with. It is advisable that you keep a few classic pieces in neutral colors so you will be able to pull out one for all occasions.
Belts are a must-have for stylish dressing. You should always leave a space in your closet for a collection of fabulous bands.