Worlds Smallest Body Builder
Aditya Dev is considered as the world's smallest body builder.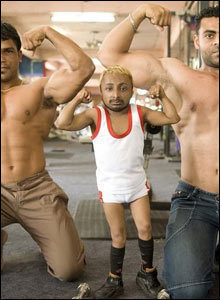 Standing only two feet and nine inches tall, and weighing just close to twenty pounds, Aditya was recognized by the Guinness Book of World Records as the World's Smallest Bodybuilder in 2006.
Only in his early 20s, Aditya who is also called Romeo, can lift dumbbells up to 1.5 kilograms even if he is himself in fact just about 9 kilograms heavy.
This miniscule muscle builder started training about four years ago and the local gym he goes to is always crowded with friends and spectators who want to witness this tiny ball of power in action.
Small Man, Big Fame
Hailing from Phagwara, India; Romeo claims that he has always tried to stay fit and healthy but ever since he started training as a bodybuilder, a lot more people are paying attention to his strength especially so because of his size.
He instantly shot to fame after word got around in the news grapevine that there is a man of not even three feet who has overcome the odds of his size by his display of inner strength and confidence.
Romeo's parents, particularly his father, are also quick to attest to this fact – that his son never let his miniscule size affect the way he lives his life.
Other than bodybuilding, Romeo is also training as a dancer and he also does aerobic exercises as part of his physical fitness regimen.
Since he shot to fame, Romeo has also been invited to a number of television shows and to grace special events. He provides inspiration to his countrymen as well as to people all over the world to not look at obstacles as hindrances to one's dreams but instead as stepping stones in achieving one's dreams.
Dwarfism
The world's smallest bodybuilder has a medical condition that is known as dwarfism. This condition is characterized by a person's inability to grow to his or her full potential height but is instead limited to grow less than four feet tall as an adult.
It is said that there are at least two hundred different medical maladies that cause dwarfism.
There is disproportionate dwarfism where a person's certain body parts are either too small or too big when compared to the size of the same body parts in an adult. For Romeo, his condition is not characterized by disproportionate dwarfism.
As a matter of fact, Romeo is a well-proportioned dwarf, with the size of his head is in direct proportion to his body.