Baby wipes give you something that's moist, clean and sanitized when you need to clean-up the baby, especially when you're out of the house with the baby.
Leading brands of baby products have their own line of baby wipes which will greatly help you choose ones that you feel will be safe for your baby.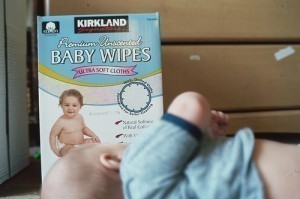 Sizes of baby wipes, when it comes to packaging, are usually indicated by the number of wipes they hold. These are in Tub Packs, Refill Packs and Travel Packs.
Sizes of Baby Wipes
Sizes of baby wipes differ from one brand to the next. You can find sizes that are about 7.25 inches in length by 5.5 inches in width and these are for the Tubs, Soft Packs for traveling and Refill Packs.
Other brands have sizes of baby wipes that are slightly shorter but are much wider. These are usually around 7 inches in length by 8 inches in width.
These are also packed in the brand's own version of Tubs, Refill Packs and Travel Packs.
For some brands, their sizes of baby wipes come in Small and Large options. The Small wipes are approximately about the same length range of 7 inches and widths of around 5.5 up to 6 inches.
The Large sizes of baby wipes on the other hand, are approximately 9 inches in width by 13 inches in length.
The labels will also indicate the number of wipes stored in the packaging. Usually, smaller packs hold up to 12 pieces of baby wipes, travel packs can hold anywhere from 24 up to 30 wipes depending on the brand, while the tub packs can hold 64 up to 80 wipes per pack.
Homemade Baby Wipes
Some parents choose to make their own baby wipes instead of getting those that are commercially sold in the market. This helps them save money and at the same time assure them that they are using only those ingredients that they deem safe for their babies.
Usually, the sizes of these homemade baby wipes are based on the parents' preference and the size of the container where they will be storing their baby wipes.
You can make sizes that are suitable for traveling and make several pieces of these for both your home and for your baby bag. Homemade baby wipes are generally made from your regular paper towels soaked in water, baby wash and baby oil.
Whatever type of baby wipes you decide on, whether those that are in the market or homemade, it's best to have ones in travel sizes so you can easily put these in your baby bag when going outside with your baby.