Unless you do some snowboard sizing, you might end up with a snowboard that is less than ideal.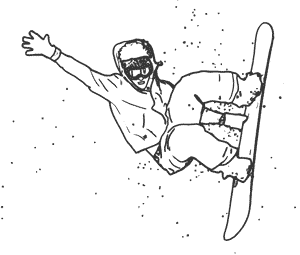 The most important elements are the board length and width and how they relate to your physical size.
Snowboard Length Guide for People 4 Ft to 4'10"
109 cm snowboards are suitable for those who are 4 ft tall. 114 -120 cm are better suited for people who are 4'2". 115 – 125 cm boards are better suited for people who are 4'4".
Individuals who are 4'6" may use 118 – 135 cm long snowboards. The 120 – 135 cm snowboards are recommended for 4'8" tall people. The 125 – 140 cm length is for people who are 4'10".
Snowboard Sizing for People over 5 Ft
The 130 – 142 cm long snowboards are for people 5 ft tall. The 135 – 145 cm long snowboard is ideal for people who are 5'2". Those who are 5'4" should get 140 – 148 cm snowboards. The 145 -152 cm snowboards are for 5'6" individuals. The 147 -155 cm boards are for persons who are 5'8".
The 154- 163 cm snowboards are for 5'10" people. People who stand 6'0" should get 157-165 cm long snowboards. Those who are 6'1" will do fine with 160-168 cm snowboards. Those who are 6'2" and up will need 159 cm or longer snowboards.
Board Width
If the boot size is 10.5 or bigger, the ideal board width is 26 cm or greater. Those with boot sizes 8.5 – 10.5 should get 24 – 26 cm wide boards. For boot sizes 8 or smaller, the recommended board width is 24 cm or less.
Machine Made and Hard Pack Snow
These are used in areas that have to create snow. If you will be using the snowboard here, make sure the snowboard has vibration control features. This is especially necessary for traversing hard pack snow.
Natural and Groomed Snow
In this scenario you are better off with longer boards. This will give your board the extra lift needed for the ride. If the conditions tend to vary, a longer board is recommended. Fortunately, many of the boards available today can be used in different kinds of snow. Check the product specs to be sure.
If you are going to buy a snowboard, you need to address these issues. Along with the proper snowboard sizing, they are absolutely essential in helping you find the right type.