While wine glass sizes differ, the smallest one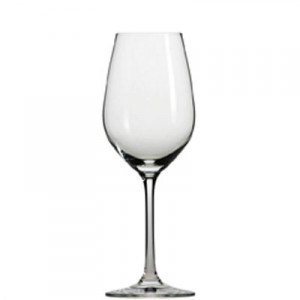 should be able to hold 120 ml (4 fl oz). The typical wine glass is transparent and has a stem. The average all purpose wine glass however, can hold 240 ml or more. It should be noted that the amount poured in the wine glass is less than half of its capacity. The only exception is the champagne glass.
Red and White Wine Glasses
The red wine glass' usual capacity is 9 ounces or 270 ml. Other red wine glasses can hold 12 to 14 ounces (415 ml). The white wine glass is usually smaller than the red wine. The average size is 240 ml (about 8 ounces). There are however, some white wine glass sizes that can hold 12 ounces or 360 ml.
Champagne Flute and Saucers
The champagne flute holds 180 ml (6 to 7 ounces). They are usually 22 cm (8 ½ in) high. The champagne saucer or coupe is 14 cm (5 in) tall. It can contain 260 ml (8 ounces). This glass shape is hardly used because the wine gets flat quickly. According to legend, the glass was shaped after the breasts of Napoleon's sister.
Liqueur
Also known as the cordial, it is 10 cm (4 in) high. The glass can hold 60 ml (2 ounces) of liquid.
The Burgundy Glass
The burgundy glass is 18 cm (7 in) high and can hold 415 ml) 14 ounces. It has the shape of a balloon. There is also a 37 ounce (1095 ml) burgundy glass.
Sherry Wine Glass Sizes
There are many types of sherry glasses. The copita (Spanish style) is 15 cm (6 in) high and has a capacity of 180 ml (6 ounces). There is also a sherry glass with a conical bowl shape.
Port Glass
The port glass is 15 cm (6 in) high and has a capacity of 180 ml (6 ounces). Shape wise, it is very similar to the red wine glass. In the UK, wine glasses with a capacity of 450 ml are called port
glasses.
Water Goblet
Wine services are usually accompanied by a water goblet. These glasses are 18 cm (7 1/2 in) high. Their capacity is 385 ml (13 ounces).
Glasses Used for Wine Tasting
The ISO has set specific sizes to be used for tasting. Their capacities are 120, 210, 300 and 410 ml.
Tips for Selecting a Wine Glass
Pick a glass that isn't heavily decorated, so you can see and admire the wine more easily. While there are stemless tumblers available, the ones with stem are classier. For red wines, a wider bowl will help release the scent.
When you pour the wine, maintain the wine level around the low 1/3 of the glass. This leaves you with plenty of swirling room. For white wines, choose a narrower opening and bowl.
Novice wine drinkers can get confused about the different types of wine glass sizes available. But once you take the time to analyze the facts, selecting the appropriate size will be less difficult.