How Large is a Pressure Cooker?
A pressure cooker is a valuable kitchen equipment that will allow you to enjoy many interesting dishes to serve your family and friends. It is available in many different sizes and before buying your own unit, you must determine what size is appropriate to serve your purpose well.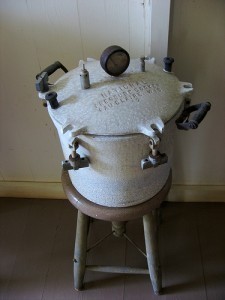 How large is a pressure cooker will determine what kind of foods you can cook in it and for how many people. Pressure cookers are sized from 2 quarts to 12 quarts and every capacity in between. The 2-quart units, which are smallest, would be nice for cooking a single meal with a chunk of meat and some veggies on the side. However, it would not be suitable for soups and stews and for recipes that expand, foam, and froth. Standard homes would make do with a 6-quart pressure cooker. It is ideal in cooking family meals for 2-6 persons.
Considering the Size
When buying a pressure cooker according to size, there are factors to consider.
First, there is the number of serving you usually require it for. The number of people in your household and how big or small their appetite is will all matter. If you like hosting home parties, you may want to get an extra pressure cooker with a large capacity instead of just the standard unit.
Second, there is the kind of recipes you are likely to cook in your pressure cooker. Some recipes allow for more room other than the actual contents or ingredients. You should put that into consideration.
Third, there is the storage concern. Your pressure cooker must be sized well enough to fit into your stovetop or countertop space where you intend to place it. It must also be compact enough to be kept in your storeroom when not in use.
Lastly, the size you choose must come with a price you can afford. Naturally, bigger pressure cookers are more expensive than smaller ones. Most kitchen experts would advise you to buy the largest pressure cooker you can afford. Then again, if it does not pass on the first three factors, you will have to reconsider.
Ideally, you must have a unit that are for regular family meals and a bigger unit that will allow you to cook larger batches of food for hosting parties and feeding a bigger number of people. The 6-quart pressure cooker is most versatile. It will give you enough space to cook your favorite foods while allowing you to enjoy an easy-to-store and easy-to-clean unit.