What is the Highest Elevation Airport?
A location where blimps, airplanes and other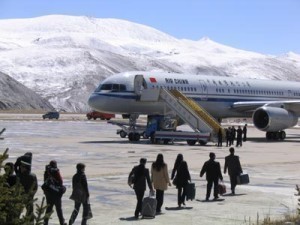 types of aircraft land and takeoff, an airport features a helipad, a runway and buildings that can be used as terminals and hangars. Some of the advance features of airports include seaplane ramps and docks, fixed base operator services as well as passenger facilities like lounges and restaurants. Aside from these, airports have tank farms, taxiways and parking lots.
For the convenience of known personalities, airports offer VIP or premium services. These services include special check-in counters, separate air bridges, priority boarding, arrivals and boarding lounge, priority baggage handling as well as separate departure areas. Aside from known personalities, these services can also be availed by passengers who frequently travel in the same airline. In addition to this, most airports provide multiple lounges.
Airports have different features as well as elevations. To know more about these structures, let us look at the highest elevation airport in the world.
The Highest Elevation Airport
What is the highest elevation airport? Qamdo Bangda Airport is the airport with the highest elevation in the world. This place is situated at Bangdo in Qamdo, Tibet. The elevation of the structure is 14,219 feet or 4,334 meters. In addition to this, the structure has the longest runway, which has a length of 18,045 feet or 5,500 meters.
The airport is connected with the other cities in Tibet such as Chengdu and Lhasa. One of the airlines that fly to this airport is the Chinese Southern Airlines. Because the airport has low air density, aircraft takeoffs are higher and true airspeed is important. The structure can be found 2 ½ hours from Qamdo's county seat.
Additional Facts and Other Interesting Details
The second highest elevation airport in the world can be found at Kangding in the province of Sichuan, China. The airport opened in May 2008. The structure's elevation measures 4,280 meters. The place is designed to hold 330,000 passengers annually. It can accommodate 120-seat Airbus A319s and Boeing 737s.
The third highest airport in the world is the Leadville Lake County Airport in Colorado. The highest point of the place measures 9,927 feet or 3,026 meters. The total area covered by this place is 605 acres or 245 hectares. One of the main features of the place is a helipad, which measures 46 x 30 meters. Some of the major services available in the airport are 24-hour fuel refill, hangar parking, rental car assistance and pilot refreshments.