King Size Mattress Dimensions
King Size Mattress Dimensions will make a break a good night's sleep. For those looking for a truly comfortable bed size that fits two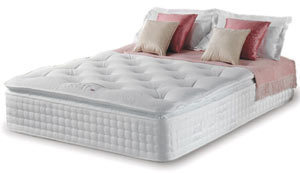 adult people perfectly with plenty of room to spare, a King size bed is your answer. King size mattress dimensions measure at least seventy-six inches in width by eighty inches in length.
This means that you and your partner will get at least thirty-eight inches wide and eighty inches long in personal space on the bed. 
Other US King Size Mattress Dimensions
If a King bed mattress is still not enough, you can always get the California King which is longer, although not wider, than your standard King.
With a California King, you will get four inches more in length but you may have to compromise the width as you will only be getting thirty-six inches each in width, two inches narrower than your personal space on a regular King.
Now, for a really mean King, you may want to look at a Grand King. This mattress is eighty inches in width and ninety-eight inches in length! This one works great for really tall people.
A Grand King will give two persons a personal bed space of forty inches in width and ninety-eight inches in length each. 
UK King Sizes
A King bed in the United Kingdom is measured quite differently. This one is approximately sixty inches in width and seventy-eight inches in length. 
You can see from these measurements that a King bed in the UK is relatively narrower and shorter than that used in the US. With this size, each person will get their own space at thirty inches in width and seventy-eight inches in length each.
Even the UK's Super King is still smaller than a California King in the US. A Super King measures approximately seventy-two inches wide and seventy-eight inches long.
Each person on the bed will get approximately thirty-six inches in width and seventy-eight in length as their own bed space.
Whatever type of King mattress you choose, you should know that there really is not standard depth for mattresses. You can easily find a King with a mattress that is between nine and ten deep; or a pillow top King mattress with a depth of about fifteen to sixteen inches.
If you want a higher bed, you should also know that a box spring or your bed frame can really increase the height of your bed. You can choose the frame that is usually paired with the mattress that you are buying or you can have one custom-made for you.  However, don't forget that King Size Mattress Dimensions are just the first step, you'll also have to worry about the frame and bedding.