What is the size of New Jersey?
Also referred to as 'the Garden State,' New Jersey is situated right within the Mid-Atlantic region in the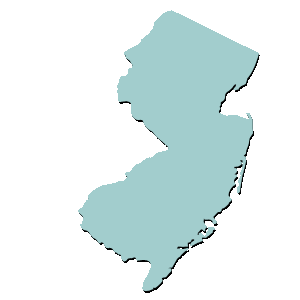 U.S. Its capital city is Trenton, while the largest city in the state is Newark. It ranks 11th overall in terms of population amongst the different states. It has a population of 8,682,661 as of 2008. It is surrounded by New York to the north, Pennsylvania to the west, the Atlantic Ocean to the east and Delaware to the south. In addition to these highly important details, it is interesting to know the size of New Jersey.
The Size of New Jersey
What is the size of New Jersey? The state of New Jersey covers a total land area of 22,608 square kilometers or 8,729 square miles, which is ranked 47th amongst the different states in the U.S. Its width is 110 kilometers or 70 miles, while its length is 240 kilometers or 150 miles. The highest point in the area is the High Point, which is the peak of the Kittatinny Mountains. It is 550 meters or 1,803 feet high. The lowest point is the Atlantic Ocean.
Additional Facts and Other Important Details
Based on the data published by the Bureau of Economic Analysis, the total state product posted by New Jersey was an estimated $434 billion in 2006. In 2007, it posted a per capita personal income of $49,511, which is actually second highest in the country. The economy of the state relies heavily on various industries including telecommunications, chemical development as well as tourism. Furthermore, it has a very good pharmaceutical industry, electronic equipment and food processing.
The state also has steady agricultural outputs including fruits, vegetables and horses. Likewise, it has a very good production of dairy products, seafood and nursery stock. The pharmaceutical industry is also very good, led by companies like Schering-Plough, Bristol-Myers Squibb and Hoffman-LaRoche. Other major contributors to this strong scientific economy are Wyeth, Pfizer, Sanofi-Aventis as well as Johnson and Johnson. Meanwhile, the companies involved in the telecommunications industry are Alcatel-Lucent, Avaya and Verizon Wireless.
New Jersey is also very proud of its high-income counties. These include Monmouth, Hunterdon and Somerset. The service industries in the area are pretty solid as well, specifically the real estate, education and retail sales. The wealthiest communities and municipalities in the state include Far Hills, Saddle River and Mantoloking. There are many different reasons to visit the state, which include historic sites such as the Morristown National Historic Park, museums like the Thomas Edison Museum and theme parks like the Bowcraft Amusement Park.