Truck Bed Dimensions for a Nissan Pickup
Truck bed dimensions for a Nissan pickup truck vary greatly. The following are the specs for a 1997 pickup. Aside from the cargo bed size, other specifications will be provided.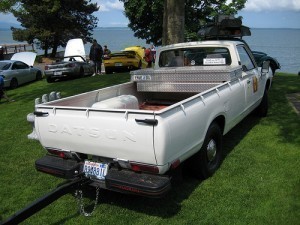 Cargo Bed Dimensions (Inches)
Its truck bed is 73.80 inches long, 59.80 inches wide at wall and has a depth of 17.10 inches. Note: these specs are for the regular cab 2WD. Its exterior dimensions are as follows. The length is 174.60. It is 65.00 wide and 62.00 high. It has two doors, a curb weight of 2815 lbs and 104.30 wheelbase.
The truck front is 54.90, the rear is 54.50 and the ground clearance is 8.30 inches. Its tires are 195/75R14, it has live front suspension and 33.50 turning diameter (ft.).
The Titan Specifications
This pickup truck came out during the 2003 North American International Auto Show. Since that time several versions have appeared. The 2010 version is fitted with 14 rear-wheel and four-wheel trims. The truck bed dimensions for a Nissan pickup aside, it has a 5.6-liter, 317-horsepower, V8 engine.
The tank is 28 gallons. The 2010 Titan has a five-speed automatic overdrive transmission. The truck has a cargo bed 63.8 inches at the widest point, 21 inches deep and 67.3 inches long. Its depth is 21 inches.
Its interior has 60.5 inches for hip room, 64.6 inches for shoulder room and 40.4 inches for legroom. The head room is 40.4 inches for headroom for the rear. The front measurements are as follows. For the hip room it is 61.3 inches, for the shoulder room it is 65.1 inches and 41.8 inches for legroom. The headroom is 41 inches.
The Nissan Navara
The Navara line refers to the D22 and D40 pickup truck generations. In some countries they are known as the Nissan Frontier. These trucks were produced beginning in 1998. Currently, the main target market is the United States. The company is also known for its Frontier line since the mid 1980s.
The D21 was the first, although by current standards it is quite small. The D21 was very popular. The 2nd generation Navara only came out a decade later. The Navara was created in 1998 and continued up to 2005. These are classified as compact sized pick ups.
Given these facts, the truck bed dimensions for a Nissan pickup will differ. For example, there is now the D40. It is larger than those other pickups. There are even larger models now available from the company.