A semi trailer is different from other types or trailers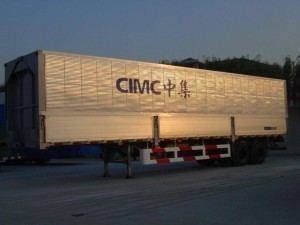 because it does not have a front axle. Instead, a road tractor is used to support a major part of its weight. In some cases, the tail of another trailer is used or a dolly, which is primarily a detachable front axle assembly. It comes with legs, which are used to hold its weight once it is uncoupled. Once a semi trailer is coupled to a road tractor, people usually call it a semi or a semi trailer truck. Aside from these facts, there are also other things to known about it including the different semi trailer dimensions.
The Dimensions of Semi Trailers
Semi trailers are designed to haul various kinds of cargoes. They come in two common widths, one of which measures 2.44 meters or 8 feet, while the other is 2.6 meters or 8 feet and 6.4 inches. The box is considered the most common type of semi trailer. It is also referred to as a van trailer. The standard lengths of boxes in North America include 16.15 meters or 53 feet, 14.63 meters or 48 feet and 13.72 meters or 45 feet. Other versions measure 12.19 meters or 40 feet, 10.97 meters or 36 feet, 10.36 meters or 34 feet, 9.75 meters or 32 feet and 8.53 meters or 28 feet.
Additional Facts and Other Interesting Details
Aside from the box, another major type of semi trailer is the side-lifter. This semi-trailer comes with mounted hydraulic cranes, which eliminate the need for container handling equipment such as forklifts when unloading and loading shipping containers. Meanwhile, a double-decker features a second floor, which is moveable, hinged or fixed. The extra floor makes it very much possible to carry additional numbers of palletized goods. A standard trailer may be able to carry more or less 26 pallets, but a double-decker has a capacity of 40 or more pallets.
In drop-deck trailers, the floor goes down a level once the tractor unit is cleared. Other types of semi trailers include the car-carrying trailer, the flatbed and the dry bulk. Additionally, you can also find the tanker, the reefer as well as the curtain sider.
Compared to full-trailers, semi trailers are known for their flexibility. Furthermore, they offer different kinds of advantages including easier usage in mud or snow, easier maneuverability and greater load capacity. However, it also comes with several disadvantages, one of which is the higher probability of jackknifing compared to full-trailers. Furthermore, it has no use without a truck.