Truck Bed Dimensions for a Nissan Hardbody
Truck bed dimensions for a Nissan Hardbody varies according to the model. The RHD type has a length of 2220 mm and is 1466 mm wide. The depth is 428 mm. The dimensions for the other models will be different.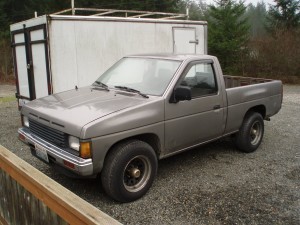 RHD SC Specifications
The ground clearance is 185 mm while the overall length is 5170 mm. The vehicle is 1620 mm high. The fuel capacity is 75 liters and the wheel size is 14". The gross vehicle mass is 2730 kg and the combination mass is 3730 kg.
Hardbody D21 Specifications
It varies because several versions were produced from 1986 to 1998. The height ranges from 67.1 in (1,704 mm), 66.7 in (1,694 mm), 62 in (1,574.8 mm) to 62.4 in (1,585 mm). The width is as follows: 1993–97: 67.1 in (1,704 mm), 1993–97: 66.7 in (1,694 mm), 1986–1992 & 1995–97: 66.5 in (1,689 mm).
The length ranges from 174.6 in (4,435 mm) to 195.5 in (4,966 mm). Besides the truck bed dimensions for a Nissan Hardbody, the wheelbase measurement also varies. The figures are 116.1 in (2,949 mm) / 104.3 in (2,649 mm). The transmission options are 5-speed manual, 4-speed manual, 4-speed automatic and 3-speed automatic. It comes in two body styles: the 2-door king cab truck and 2-door truck.
Names
The Hardbody is its common name. However it is known by a variety of names elsewhere. It is called the D21 in China. It is also known as the Power Eagle, pickup, Camiones and Hustler. In several countries it is marketed as the Navara or Datsun.
The D21 were designed to succeed the Datsun "720". The name Datsun was retained for the early models. The name was retained in Japan for all models, but not in other countries. The Hardbody name is more popular in the United States. It is so-called because of the styling and double-wall bed.
Other Information
The vehicle line remained in the American market from the mid 1980s up to 1997. The shift from the 720 to the D21 became apparent in the middle 1980s. Compared to the 720, the D21 possesses two big headlights instead of four. The shape is less boxy too. The Pathfinder's style was inspired by the D21. Other trucks also followed its example.
The truck bed dimensions for a Nissan Hardbody do not vary. Two became available: the standard and king/extended. Both of them use the 'long' seven foot and 6 ft model.