A snow blower is a machine designed to clean up large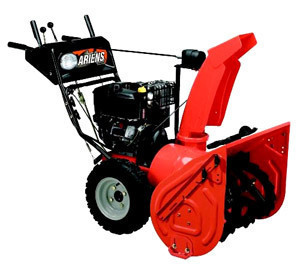 areas of snow. These machines are used extensively in airports, roads, parking lots and driveways during the winter.
Honda Model HS520 Snow Blower Dimensions
The physical dimensions are 49.5" x 20.7" x 40.8". The clearing width is 20" and the clearing height is 12". The fuel tank capacity is 1.2 US quarts gasoline while the chute turning radius is 20 degrees. The operational capacity on one tankful is about 90 minutes.
The clearing capacity is 50 tons per hour. The discharge distance is 26 feet. The oil type is 5W-30. The dry weight is 76 lbs. The fuel type used is 89 octane unleaded gasoline. It has a forced air-cooling system. The engine is a 5HP (160 cc), single cylinder.
Other Features of the Honda Model HS520
Apart from the snow blower dimensions mentioned, the Honda l HS520 is noted for the fact oil and gas mixtures are not needed. The machine is most ideal for use on cement, blacktop, pavements and sidewalks. The auger assist drive aids the machine in moving along. To move it forward, a bit of upward pressure is required.
Other Facts about Snow Blowers
The snow blower was created in 1925 by the Canadian Arthur Sicard. His invention was comprised of a truck and a couple of snow blower chutes. A motor was fitted in. Sicard's machine could suck in the snow and hurl it ninety feet away. The snow could also be put in the truck.
The machine was a hit when it first came out, but it truly became popular when blowers for home use came out in 1951. The new snow blower could pack hard and soft snow in the truck. It was a huge improvement over the snowplow.
Designs
Two designs are in use today. The single stage snow blower is compact and light. These are suitable for light work and working in narrow and small areas.
The dual stage blower is larger. They are designed to move snow over different kinds of terrain. Dual snow blowers have a ridged blade so it can plow through hard snow. It also comes with another blade to put the snow into the container.
The snow blower dimensions have a direct effect on the amount of snow that can be removed. If you only need to remove light snow, the single stage snow blower will be sufficient. But if snow packs in regularly at your area, it is a good idea to invest in the dual stage machine.