Portable Dry Ice Fog Machine Dimensions
Dry ice fog machines can be used in many ways,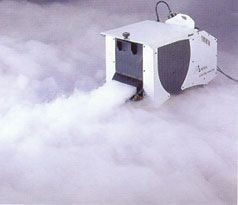 but large units can be too difficult to move around. For this reason, portable dry ice fog machine dimensions have been developed. The following are just some of them.
LF05E Pea Souper
This fog machine measures 22" x 19" x 20" and weighs 20 lbs. The unit is suitable for a 15 foot x 25 foot area. Placing two units on two ends will cover an area measuring 20 foot x 40 ft very well.
To use, just put in hot water and 20 lbs of dry ice. Push the lever and the fog will appear. The water should be reheated after the fogging. The voltage is 110 and the power is 1500 W. If time is of the essence, you just have to put water in the fogger.
LF3300 Aquafog 3300
The LF3300 Aquafog 3300 has an ice capacity of 75 lbs and the water capacity is 28 gallons. The portable dry ice fog machine dimensions are 21 1/2" x 31" x 38". The casers are 8" fixed rear and 3 1/2" swivel front. The hose vent measures 4" and the door measures 20" x 30".
The fog machine is made from plastic polymer. This machine has a thermoplastic tank. This makes the unit resistant to corrosion. There is no need to replace the drums. There is also a 6" fan that puts pressure on the tank and releases the fog.
LF30 LSX Low Smoke Converter
This portable dry ice fog machine dimensions are 24" x 28" x 24". This is capable of changing the G300 output into a cloud or fog. The unit is capable of filling up a 20 x 40 ft stage. The voltage is 110 and the power is 1800 W.
The Fog Cabin
The Fog Cabin can hold up to 20 lbs of dry ice. To use, one just has to fill the unit with dry ice. When it is filled, the lid has to be closed. After the hatches are locked, the machine will do the rest. The unit does not require any warm up time like other devices. The Fog Cabin is compatible with other fog machines.
Portable dry ice fog machine dimensions are essential in many cases. They can speed up set up times and allow effects to be produced easily. Be it for concerts, weddings or plays, these devices will come in handy.