How Big is Disneyland In California?
We all grow up dreaming about Disneyland. For kids and kids-at-heart, it is a place where extraordinary entertainment may be experienced. Thanks to Disneyland Park, people can enjoy a getaway that will bring you different images and visions of the past, present, future, and fantasy.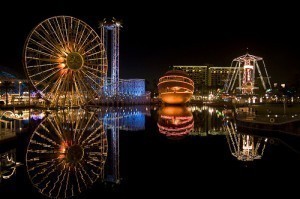 The very first Disneyland, also known as the Disneyland Park, is located in Anaheim, California. It was owned and operated by the Parks and Resorts Division of the Walt Disney Company. Originally, it was simply called Disneyland but to erase the confusion between the park and the resort complex, the management re-branded it and called it Disneyland Park.
Disneyland Park is the basis and inspiration of all Disneyland theme parks. It was constructed as early as the 1950s and was expanded over and over throughout the years.
How Big is Disneyland in California?
As the prime property, you can expect Disneyland in California to be huge – bigger than any other theme park of its kind in other parts of the world. Well, that is true. Disneyland Park was made to sit in a hundred and sixty acre property. Since its opening in July 17, 1955, several expansions were made. All in all, it has attracted about 600 million visitors from around the world. It is definitely one of the most visited theme parks around the globe.
Disneyland Park is huge in all sense of the word. It is huge in amusement, in amenities, in features, in history. It has different themed areas – all are exciting in their own right.
First, there's Main Street, U.S.A., which is reminiscent of the Victorian period. It has a train station, a town square, a movie theater, a firehouse, a city hall, countless shops, emporiums and arcades, plus a double-decker bus, a horse-drawn streetcar, and some jitneys.
There's also Adventureland, which provides a 1950s vision of post-war adventure. Unlike the Main Street, Adventureland provides an exotic tropical feel, which will make you think you are in a far-off place.
Then there's New Orleans Square, which is inspired by 19th Century New Orleans featuring haunted mansions and nighttime entertainment.
Fantasyland is another interesting themed area. This is where kids' dreams become reality. As you step into the land, you will see Disney characters coming to life, right in front of you. If you ever dreamed about flying alongside Peter Pan or striding side by side Alice in her nonsensical Wonderland, you will surely enjoy this.
Finally rounding up this list of must-see in Disneyland Park is none other than Mickey's Toontown. This is home to Disney's most popular toon characters from Mickey Mouse to Minnie Mouse to Goofy to Donald Duck and the rest of the gang.