What is the size of Montana?
The size of Montana is 147,165 sq miles or 381,156 sq km. It is 255 miles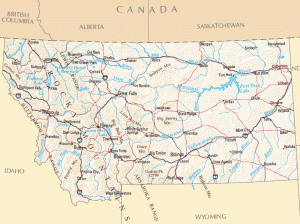 (410 km) wide and 630 miles in length (1,015 km). The capital city is Helena.
Geographical Information
The latitude is 44 degrees, 21' N to 49 degrees, N. The longitude is 104 degrees, 2' W to 116 degrees, 3' W. Granite Peak is the highest point at 12,807 ft (3,904 m). Kootenai River is the lowest at 1,800 ft (549 m). The mean is 3,396 ft.
The state is noted for its mountain ranges, including the Northern Rocky Mountains as well as the Bitterroot Mountains. The Beartooth Plateau is the largest landmass in America at 10,000 ft (3,000 m).
Population
The size of Montana's population is quite small, compared with the other states. As of 2008 the population was 967,440. The density is 6.5/sq mi or 2.51/sq km.
The earliest census done for Montana was n 1870. The population was 20,685. The total increased to 142,924 in 1890. Another major increase occurred in 1900 with the population reaching 243,329.
By 1920 the number of people in Montana had reached 548,889. The 1960 census showed the population was at 674,767. There were 786,690 individuals living in Montana in 1980. There were 902,195 individuals there by the year 2000.
Montana's Major Cities
Billings is the most heavily populated with 89,847 residents. Next is Missoula with 57,053, Great Falls with 56,690, Butte-Silver Bow with 33,892 and Bozeman with 27,509. At number six is Helena with a population of 25,780.
The size of Montana's Kalispell City is 14,223 while Havre is number eight with 9,621 residents. Anaconda-Deer Lodge has a population of 9,417 and Miles City 8,847. Helena Valley Southeast is home to 7,141 while Helen valley West Central has a population of 6,983. The population figure for Livingston is 6,851 and for Laurel 6,255.
Ever Green's population has been estimated at 6,215; for Lewistown it is 5,813. Belgrade is the 17th most heavily populated with 5,728. Orchard Holmes is at number 18 with 5,199. At number 20 is Sidney with a population of 4,774.
Biggest Counties
The size of Montana's counties (population wise) are as follows: Yellowstone County (pop: 142, 348), Missoula County (107,320), Gallatin County (89,824), Flathead County (88,473), Cascade County (82,026), Lewis and Clark County (60,925) and Ravalli County (40,664) is at number seven.
Silver Bow is number eight with 32,803 and Lake County is at nine with a population of 28,690. Lincoln County is number ten with a population of 18,971.
Hill County is at number 11 with a population of 16,454, while Park County is the 12th biggest with 16,189. Glacier County is number 13 with 13,297 followed by Big Horn with 12,841. Jefferson County is number 15 with 11,255. There are a total of 56 counties in the state.
The 16th biggest county is Fergus with 11,195 followed by Custer County with 11,149. Sanders County is number 18 with 11,034 while Roosevelt County has a population of 10,089. At number 20 is Carbon County with 9,657.
The size of Montana's county population as given here are for 2008. Like the state's population, the figures will change in a few months or years.