What is the size of Utah?
Known as one of the states in the western region of the U.S.,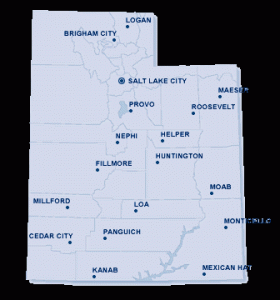 Utah has three geological regions, namely the Great Basin, the Colorado Plateau and the Rocky Mountains. The place is very popular for the diverse animal and plant species. The area is bordered by Nevada at the west, Arizona at the south, New Mexico at the southeast, Colorado at the east, Wyoming at the east and north as well as Idaho at the north. To know more about this interesting place, let us look at the size of Utah in terms of population and territory.
The Size of Utah
What is the size of Utah? The place ranked as the 13th largest state in the U.S. with a total area of 219,887 square kilometer. The total length of the state is 565 kilometers and the width is 435 kilometers. The percentage of area covered with water is 3.25. Kings Peak is the place's highest point with 13,528 feet and the Beaver Dam Wash is the lowest point with a depth of 2,000 feet. The mean elevation of the place is 6,100 feet.
The place is known for attractive tourist destinations like the Wasatch Range, the Uinta Mountains and the Wasatch Front. This area is also known for its major cities including the Salt Lake City, the West Valley City, the West Jordan, Provo, Sandy and Layton.
Additional Facts and Other Interesting Details
The size of the place can also be measured in terms of population. In 2008, the estimated population of the state is 2,736,424 while the population density is 10.5 per square kilometer. When it comes to median income, Utah ranked 41st among other states with $50,614. The state plays home to different races including Pacific Islander or Native Hawaiian, Asian, Alaskan Native or American Indian, African American and American.
People who have plans of migrating to this state should have ideas about the religions that are present in the place. Some of the religious groups that people can find in Utah are the Latter Day Saint movement, Catholic, Evangelicals, Mainline Protestants, Black Protestant Churches, Buddhism, Eastern Orthodox, Hinduism, Islam, Jehovah's Witnesses and Judaism.
When it comes to tourism, people who like to travel to Utah can go to the attractive ski resorts in the area. In addition to this, the state also features several monuments and state parks. Moreover, the state is famous for having interesting recreation areas, cultural attractions as well as national forests.