Standard Couch Dimensions
There was a time when couches and sofas didn't mean the same thing. Back in the olden days, couches are chairs without armrests but with legs and can seat at least two people.
Over time, these couches evolved into sofas by adding armrests to the chairs and taking out the legs. These days however, you would often hear couches and sofas being used in the same context, where sofas are often referred to as couches and vice-versa.
In any case, it would help to know the dimensions of these seats so you can get one that will fit into your living room, family room or den.
Standard Couch Dimensions
Basically, when it comes to allotting appropriate space sizes for couches there are two things that you would look into: the length of the couches and their depth or width.
Heights are only important in that you will need to know their measurements when considering center tables, coffee tables or end tables that will complement the couches.
Generally, couches that can comfortably seat three average-sized people are about eighty-two inches long by thirty-six inches wide by thirty-six inches high.
In centimeters, these dimensions are 208.28 long, 91.44 wide and 91.44 high. However, sizes may vary depending on the manufacturer's design and discretion.
You can also find couches that are ninety inches long by thirty-nine inches deep by thirty-one inches high. These are about 228.6 centimeters long, 99.06 centimeters deep and 78.74 centimeters high.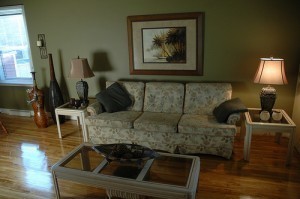 Lengths can run up to ninety-two inches or 233.68 centimeters; depths can also be thirty-seven inches or 93.98 centimeters while typical heights are pegged at thirty-six inches or 91.44 centimeters.
Your best option is to first measure the space that you have reserved for the couch and then find a suitable couch that will fit into your measurements.
It is also important to note the size of the door where you will be carrying the couch through so you won't have any problems getting the couch inside the house.
Couch Covers
If you wish to keep your couch protected from dirt, dust or stains; it is recommended that you use couch covers. These come in a wide variety of designs and fabrics so you can easily choose one that will complement your interior décor.
On the other hand, if you wish to have a new look for your couch, these couch covers can give you different looks every time. This way, if you are redecorating your living room you won't have to replace your couch; plus couch covers can keep your seats looking brand new.