Sleeping pads are also known as mattresses that help give you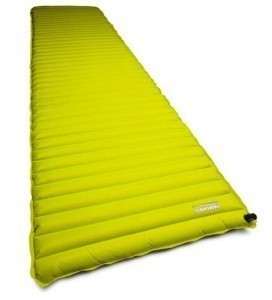 comfort and sheer relaxation whenever and wherever you choose to bring them. There are various sleeping pad sizes in the market that can be suitable to your needs.
While you can choose to use sleeping bags in your outdoor trips, using a sleeping pad at its bottom can help keep you protected from the coldness of the ground, and give you that much needed rest and relaxation.
If you plan to buy one, much importance should be placed on the sleeping pad sizes that will suit your preferences since no single sleeping pad is the same as the other.
Here are some types that may help you learn more about sleeping pads and the available sleeping pad sizes that they are made of:
Sleeping Pads with Air Mattresses
In the market, you may find a lot of choices for this type of sleeping pad. A large sized air sleeping pad has these measurements: About 25 for its width, 77 for its length, and 2.5 for its thickness – all measured in inches. A queen size would have measurements of around 17d by 13h by 43m. Others that are manufactured have measurements in centimeters as such: 183 by 53 by 3.8.
Initially, these types have garnered much popularity since its emergence in the market.
To inflate this pad, you may have to use your foot or hand to manually pump in the air. You may also use your mouth in the process.
These types usually offer the user with good insulation and a more comfortable rest.
Sleeping Pads with Foam Pads
A pad size for the foam of a sleeping pad can be around 2 inches to provide a restful sleep; its pad weight can be around 3 inches.
There are some manufacturers that sell these types of pads from a pillow-sized version to a 14-inch Queen-sized pad.
You may also find some products in the market having about 38 x 74 inches.
These types of pads are bulkier than the air mattresses. Although bulky in material, they are lighter than the earlier versions.
Self-inflating Sleeping Pads
A good camping size for this type of sleeping pad is around 183 x 51 x 3 centimeters. Others are made with around 30 by 77 by 2.5 inches. There are also some products around that have about 74 inches by 25 inches.
This actually combines the benefits of both the foam sleeping pads and the air pads.
The aforementioned sleeping pad sizes are some of the common dimensions you may find. However, you may also need to check out the certain dimensions when the pad is rolled out, and when it is rolled up to help you decide which sleeping pad is best to use for your outdoor travels.