A stairway is a structure used for going up or down floors.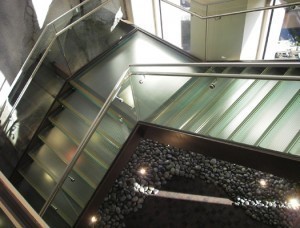 Stairways are found in homes, offices and other establishments. The following are the stairway dimensions used in the United States and other countries.
Stairway Sizes
According to the 2000 International Code Council and the 1996 Council of American Building Officials (CABO), it is recommended that unit runs should be 10 inches minimum. The unit rise must not be more than 7 ½ inches.
Staircases which just have treads are known as open risers. These are no longer allowed in the US because of the inherent dangers involved.
Width and Landings
This may vary from building code to building code. Usually, the minimum width allowed in residences is 2 feet 8 inches. But if you are building stairs, 3 feet or 3 feet 6 inches is better. 3' 6" is considered by many to be the standard as it is used in many homes.
Handrails are needed if the stairs is wider than 44 inches. Majority of building codes on stairway sizes do not permit stairs to be higher than 12 feet without a landing. The landing length has to be equal to the stair tread at least.
Balustrade
The CABO code states the baluster openings should be no more than 4 inches. This is 50% less than what was allowed decades earlier. The change was done to prevent injuries to young kids. The handrail on the top of the balustrade is 30 to 38 inches (this is over the stringer).
The handrail grip size is from 1 ¼ to 2 inches. Handrails that are wall mounted must have a space of 1 ½ inches at least between the wall and handrail edge.
Old Stairway Size Standards Used
Vitruvius' De Architectura recommends a unit rise of 9 to 10 inches. The unit run is between 18 to 24 inches. Sir Henry Wooten (1568–1639) said that unit rise should not go beyond 6 inches.
He also said the unit run has to be between 1 to 1 ½ feet. These dimensions however, are more suited for mansions and large buildings rather than modern homes.
Jacques-Francois Blondel (1705–1774) in his Cours d'Architecture said that the rise / run ratio should be decided on the length of human pace. He calculated this to be 25.5 inches.
In America, the old rule was that the unit rise and the unit run sum should be 17 ½ inches. The usual practice is to have the unit rise at 7 ½ inches. The unit run for exteriors is 11" and for interiors it is 9".
Some studies claim that the unit run has to be 11 inches at the very least. But using this size would mean a substantial increase in staircase size. Some also claim there is no proof this size will make stair climbing safer.
The best way to approach the problem of stairway sizes is by checking the local building code. If you are building a house, you may also consult an architect to get an idea of what the right dimensions are.