Glamis Castle is located just next to the village of Glamis within Angus,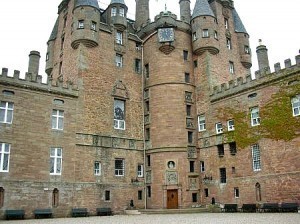 Scotland. Even if the castle is opened to the public, it still continued to be the residence of the Earl and Countess of Strathmore and Kinghorne. The Queen Mother of England, Elizabeth Bowes-Lyon spent her childhood days in this magnificent castle. Princess Margaret, the second daughter of the Queen Mother, was born in this place. You can see the Glamis Castle illustration on the backside of the ten pound notes which the Royal Bank of Scotland issued since 1987.
Location
The location of Glamis Castle is within the wide and fertile valley of Strathmore. It is close to Forfar in the county town of Angus. Situated between the Grampian Mountains to the north and Sidlaw Hills to the south. The place is just about 20 kilometers away from the North Sea.
The total land area of Glamis Castle including the estate surrounding it is more than 57 square kilometers or 14,000 acres. On top of this, there is also a garden comprising of luxuriant gardens and walking trails. Lumber and beef are among the cash crops produce from the gardens of the castle. There are two refreshing streams that run across the castle grounds and one of these is the Glamis Burn. There is a greenhouse that overlooks Glamis Burn that consists of different trees from across the world. Most of these trees are rare and are already centuries old. The common sights on the grounds are birds and other interesting small wildlife.
Glamis Castle has a tea room and a portion of the grounds and gardens of the castle are open to the public. This public part of the castle can be hired for special functions and occasions like family gatherings, weddings, and dinners.
Interesting Facts
Myths and legends always accompany Glamis Castle throughout the centuries. It was believed that King Malcolm II was murdered here during the eleventh century. The widow of Lord Glamis named Lady Janet Douglas was burned at the stake in 1540 because James V believed that she was a witch. Rumors also spread that the castle has a secret room inside where a nobleman is said to be playing cards with the devil himself until doomsday comes.
Glamis Castle at the present has the appearance of a French castle than that of a medieval fortress. This is due to the extensive restoration work being done in the property during the 17th and 18th centuries. However, the original tower house located at the center of the castle still remains as it is.
Glamis Castle is also the venue for the Shakespearean play titled Macbeth. It became famous due to the belief that Macbeth murdered Duncan at this place.