One of the top performing public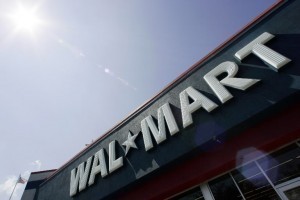 corporations in the world in terms of revenues, Wal-Mart Stores Inc. runs numerous chains of department stores in the United States. The firm was established in 1962 by Sam Walton and the New York Stock Exchange listed Wal-Mart in 1972. The company operates department stores in other countries. It owns Walmex in Mexico, Asda in Great Britain as well as Seiyu in Japan. The operations of the firm in other nations like China and Great Britain are successful. To know more about this corporation, let us start with the size of the firm.
The Size of Wal-Mart
How big is Wal-Mart? In 2008, the firm announced that the number of people employed in Wal-Mart Stores Inc. is estimated to be 2,100,000. The total equity posted by the company in 2007 is $64.608 billion while the total assets amount to $163.514 billion. For the fiscal year 2009, the firm posted total revenue of $404.16 billion and an operating income of $30.7 billion. The net income of the firm during the year amounts to $13.9 billion.
Additional Information and Other Important Details
Some of the initiatives of the firm include the implementation of different environmental measures as well as the construction of experimental stores in some parts of the U.S. The environmental measures implemented by the firm triggered fuel efficiency. In addition to this, the environmental measures also decreased greenhouse gas emissions. Aside from these, the energy use in the stores was also reduced by 30 per cent.
To improve the performance of the firm, it constructed experimental stores in Texas, Nevada and Colorado. The stores feature wind turbines, water-cooled refrigerators, biofuel capable boilers, photovoltaic solar panels as well as xeriscape gardens. The firm has eight operating divisions, which include Wal-mart Stores U.S., Wal-mart Discount Stores, Wal-mart Supercenter and Wal-mart Neighborhood Market.
The growth of the firm started in the 1980s. In 1987, when the company celebrated its 25th anniversary, the sales from 1,198 chains reached $15.9 billion. During the year, the firm also completed the development of the satellite network of the corporation. To enhance the performance of the company in the 1990s, it launched the neighborhood market concept. In addition, the firm opened the Walmart Supercenter in Missouri. In the early 2000s, the firm employed at least 1.6 million associates in the world. As a form of gratitude to all the consumers of the stores, the company donated $20 million in cash to the victims of the Hurrican Katrina.