The sunroom can be used in many ways. It can function as an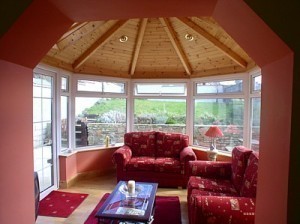 indoor garden, music room, an entertainment room or even a spa. Its purpose will determine the design, but some basic issues have to be addressed.
The Sunroom Dimensions
The size will depend on how much space is available. The space you allocate will hinge on the furniture you want to put there. If you want to add a loveseat, two chairs and an end table, 14 x 16' or 18 x 18' should be fine.
You can also use a 16 x 20 space. An 18 x 18 or larger space would provide adequate room for a large couch, a medium sized recliner and a club chair. It will also have room for a coffee table, a TV stand and an end table.
The 18 x 18 space will also have room for half a dozen chairs and a 48' round table. The sunroom dimensions given are good for 42 inch TVs. If you are getting a larger set, you might want to use at least an 18 x 20 space.
What Colors to Choose
The colors will depend on how you will set up the room. The Italian style, however, is very popular with many homes. To attain this look, use different shades of gold and assorted earth tones.
You can complement these colors by adding terracotta ceramic to the flooring. For the wall, an espresso brown will look nice. You can add some variety to the colors by using the tile mosaic surfaces and majolica pottery. If the sunroom dimensions and style calls for a simple clean look, whites and blues should predominate.
Furniture
No matter what the room dimensions are, keep it simple, cozy and clutter free. The furniture materials should complement the sunroom interior. If the sunroom is constructed of wood, use furnishing made from straw, bamboo, rattan and other similar materials. Other items you can add are pine furniture.
If the room has a sleek look, more modern looking seats and tables must be used. One of the best ways to decorate the sunroom is by buying a bistro set. These are three-piece sets made of up chairs and a café table. You can save space by buying folding chairs or stools.
Other Tips
The lighting should complement natural light. The lighting has to be sufficient. But you need to make sure the lights don't make it too bright.
Recessed lighting will work well in a sunroom. If you want the room to have that classic look, consider getting a chandelier with crystals. For added style, add fabric on the windows.
You can use blinds for a contemporary look. If you want a natural look, bamboo and wicker shades will look better. Plants can also make the room look and feel more comfortable.
The sunroom dimensions will also determine how big the rugs have to be. However, you can just leave the floor unadorned. Paintings will look good, but only if the room is spacious.