If it gets too dark in your work area, a LED lamp is something you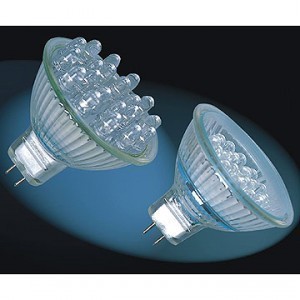 might want to consider getting. Aside from being bright, a lot of the models are small, so they don't take up a lot of room.
LED Lamp Size: Normande Lighting
The Normande Lighting desk lamp comes in at 7.5 x 4.4 x 14 inches and weighs 2.2 lbs. An 18Pcs lamp, it comes with a telescoping arm that can be extended. The finish is brushed steel and it comes with a toggle switch. The adjustable height allows for several positions and works like an antenna.
The base that keeps the 18 LED lights swing upwards. This allows the lights to go up. The lamp head can also be turned over, which can reduce the brightness if needed. The lamp itself is best suited for lighting a specific area.
LED Lamp Size: American Science & Surplus LED Lamp
This small lamp has a base measuring 4 1/4 x 3 x 1 ½ inches. This in turn supports a gooseneck 8 inches long. It is fitted with 14 white LEDs. It is a silver plastic with chrome. It comes with a push button and utilizes three AAA batteries. This can be set up on the dresser, although it can be used as a camping lamp.
With new batteries, the lamp should be good for 15 hours. This lamp is most suited for those who need a small lamp but with very little available space. It can function as a reading lamp. This can also be used as a night light. This lamp can also double up as a flashlight.
LED Lamp Size: Coast LED Lenser LL7907
The LL7907 Montreal LED Light is 22.75 inches high and 1 ¼ inches in diameter. It comes with three LEDs, and this can be combined to produce seven colors. The base is 103 mm in diameter (4 inches) while the light rod is 33 mm in diameter (1.25 inches). It weighs 1300g (about 2.8 lbs).
The base is metal and comes with the photon reflector. It has three switches. These are used for turning the lamp on and off. The switches are also used for combining the colors. The unit comes with a transformer. To use, it just has to be plugged in the outlet.
LED Lamp Size: Normande Lighting 36Pcs
This Normande Lighting desk lamp measures 10.5 x 4.8 x 14 inches. It comes with a convertible clip and is of a black shade. The gooseneck is chrome and can be adjusted by the user. There is a LED bulb shade and a toggle switch.
The lamp doesn't use a lot of power but is bright enough for a variety of uses. It is most ideal for those dark areas in the kitchen. Because it doesn't take a lot of space, it can also be placed on a computer desk.
When it comes to buying lamps, the LED lamp size won't be a factor if you have plenty of space. If room is limited, you need to balance between getting a bright light and one that isn't too big.