Size of a Telescopic Handlers
The telescopic handler looks and works like a forklift.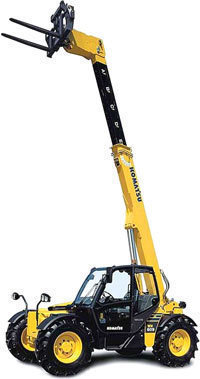 But rather than using a vertical mast, the telescopic handler relies on a telescopic boom. This gives it more lift both upwards and forwards. This is also known as a telescopic forklift.
Telescopic Handler Sizes
These machines have different specifications. The JCB 540/170 has a max lift capacity of 4000K. The lift capacity at full reach is 600kg while the lift capacity at full height is 2500kg. The JCB 540/170 is 2.49 mtrs wide and 2.69 mtrs high. 12.5 mtrs is the max forward reach while the lift height is 16.7 mtrs.
The JCB 533/105 is 2.29 mtrs wide and 2.49 mtrs high. The max forward reach is 6.8 mtrs and the lift height is 10.2 mtrs. The max lift capacity is 3300kg while the lift capacity at full height is 3300kg. The lift capacity at full reach is 1050kg.
Uses and Application
The telescopic handler sizes may differ, but they are basically heavy duty variants of a forklift. These machines however, can be customized for use in rugged terrain. For example, the telescopic handler can be used for warehouse operations, agriculture, mining and also in construction.
It is typically used with pallet or fork attachments. However, attachments like the lift table, muck grab, grapples winches, truss jibs and rotating cartridges may be used.
Variants
Telescopic forklifts are available in different configurations, usually according to the weight load capacities (i.e., light or heavy). The functionality of the boom is what permits it to perform various lifts.
As the specs indicated earlier show, the lifting capacities of these machines vary. Generally, they are between 3,000 to 35,000 pounds (1,361 to 15,876 kg). The lifting height also varies, but usually it can reach up to 70 feet (21 m).
Some of these forklifts come with computers and other electronics. Telescopic handlers with sensors allow it to accurately determine the reach and lift capacities. This gives more control to the operator.
Outriggers may also be used to give additional support. They can also set and get pallets set behind one another at a single aisle position. After the initial pallet is taken, the proceeding one becomes available. In short, the handler is capable of handling two pallets. The standard forklift can only deal with one.
Apart from the different telescopic handler sizes, it is also known by a variety of names. In some countries the machine is called an extendable reach forklift, or telehandler.