Also called as pencil box, a pencil case is designed to contain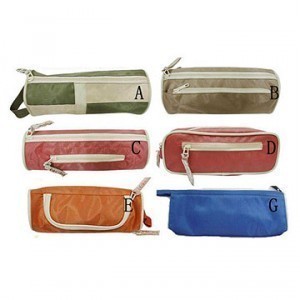 pencils. It helps organize things. Some cases also contain additional features like a calculator, a stapler and an eraser. In addition, other variations even come with a sharpener. This device is very useful especially for students and office employees. Learn more about this all-important container by knowing the different pencil case dimensions.
The Dimensions of a Pencil Case
Pencil cases come in different sizes with varying designs and colors. Clear pencil cases are available in different sizes, ranging from as small as 8 inches by 5 inches to as big as 13 inches by 5 inches. There is also a triangular pencil case, the dimensions of which are 2.36 inches by 7.87 inches by 2.76 inches. A flat nylon case measures 8.66 inches long, 5.12 inches high and 1.97 inches deep.
The Umbro Streetlife pencil case is a very nice product, which comes with a zipper and two compartments. Available in red and gray, this case is made from durable polyester. It measures 2.36 inches high, 9.06 inches wide and 3.54 inches deep. There is also a standard-type Umbro pencil case, which comes in gray and black. It has a zipper with a single compartment. Its dimensions are 3.15 inches by 9.06 inches by 3.15 inches.
You can also find a pencil case with three compartments, some of the most common sizes of which are the 3.94-inch by 8.66-inch by 3.15-inch and the 4.33-inch by 8.27-inch by 1.18-inch versions. Some pencil cases feature interesting designs like popular cartoon characters and special movie themes. For instance, the High School Musical pencil case has a width of 8.27 inches and a diameter of 2.76 inches. Another interesting design is the Tigger pencil case, which is based on the highly popular Disney character. Its physical dimensions are 2.76 inches by 3.94 inches by 2.36 inches.
Additional Facts and Other Interesting Details
Most pencil cases are made out of plastic, which can be soft or hard. Soft cases usually come with zippers, which can be fastened easily. Schoolchildren prefer to use cases with interesting and colorful designs, while professionals always go for versions that are sleek and compact. To prevent the possibility of hiding notes inside pencil cases, specifically during exams, schools have implemented guidelines ordering the use of transparent cases only. This will make it easier for teachers to spot individuals who are cheating.
Hard pencil cases are commonly made from steel, wood or heavy-duty plastic. These products are more durable, which makes them practical, economical and more convenient to use. However, they are more expensive compared to softer versions.