A glue is also called an adhesive, whic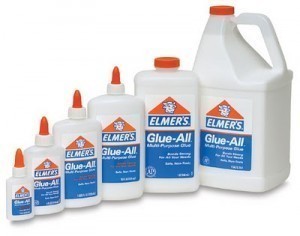 h is primarily a semi-liquid or liquid mixture designed to bond objects together. It comes in various forms, some of which are strong enough to play a very important role in the construction industry. Meanwhile, some of these adhesives are developed for lighter uses such as for school projects and office works. Because of these variations, it can truly help to know something about the different glue sizes.
The Different Sizes of Glue
One of the most popular forms of glue is the glue stick. It is available in different sizes, the most common of which are the 40-gram, 20-gram and 10-gram variations. This kind of adhesive is contained within a pushup or twist tube. This is widely used in offices and schools because it is economical and very easy to use.
A glue pen is one of the modern forms of adhesives. It is compact, lightweight and convenient to carry. A standard ball pen dispenser can hold up to 7 grams of glue. This product is perfect especially when you only need to use a small dot or a thin line of adhesive to bond light objects such as paper and the like.
For those who are looking for high performance glue, one of the top products today is Elmer's Ultimate Glue. This reliable product is waterproof, strong and permanent. Each bottle contains about 56.7 grams of glue. It is stainable and paintable. Another nice product is Elmer's Glue-All, which is a multipurpose glue suited for daily use. Be prepared all the time by storing this inside your home, school or office. Each bottle contains 113.4 grams of PVA glue. Aside from paper, it can easily bond pots, wood and cloth.
Elmer's also produces a wide glue stick, which is described as permanent, photo safe and acid-free. Furthermore, it is washable and non-toxic. It comes in a special twist up tube, which makes it easier and more convenient to carry. Each tube can hold 22 grams of high quality glue that dries clear. For superior bonding strength, it is also nice to try Elmer's Craft Bond glue stick. Each pack contains 25 grams of acid free and non-toxic glue.
Additional Facts and Other Interesting Details
Some forms of glue are based on animal protein. These include meat glue, casein glue and albumin glue. The same also goes for collagen-based adhesives such as rabbit skin glue, fish glue and bone glue. There are also certain variants made from plants and other organic materials like the library paste. In addition, some adhesives are made from synthetic polymer including hot-melt glue or ethylene-vinyl acetate, epoxy putty as well as epoxy resins.