Do you still remember your bath times as a young child?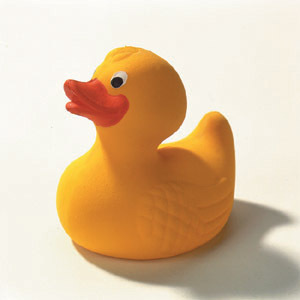 If you still do, I bet you have not forgotten about those squeaky yellow ducks you played with in your bath tub.
Who would ever forget about rubber ducks?
Rubber ducks are those rubber toys shaped like ducks. They are mostly colored yellow. They also almost always squeak. They may be made from real rubber or rubber-like materials. The most popular material for rubber ducks is vinyl plastic.
Rubber ducks are iconic. They have been an integral part of the American pop culture. They are also very popular in almost all parts of the world.
The popularity of rubber ducks was made even more pronounced when Jim Henson of the Sesame Street fame integrated it in the "Ernie and Bert" skit. From then on, there was no turning back for the rubber duck. Words spread out in 2001 that even Queen Elizabeth II of England has a rubber duck in her bathroom. And yes, it has a crown! For some less popular individuals, rubber ducks are also favorite collectibles. People from different countries would make you shout w-o-w with their rubber duck collections.
Rubber Duck Sizes
Rubber ducks come in different designs. That's one big factor that makes it a favorite collector's item. At present, rubber ducks are no longer just plain yellow. They can be in different colors as well. Another notable thing about rubber ducks is that they come in different sizes. There is not one standard rubber duck size. Rubber ducks are manufactured and produced globally under different manufacturers. They usually decide the range of sizes they choose to offer the beloved squeaky ducks.
Rubber duck sizes come between small and huge. You can choose your rubber duck size depending on what you like and how you like it. Usually, rubber ducks are sold in a bunch. Depending on the manufacturer, the bunch may include a number of the small variety or a bunch of little ones together with the mother rubber duck or a couple of big ones in one package. One thing is for sure, you can find a rubber duck available in any toy store anywhere in the world.
As rubber ducks come in a variety of designs, colors, and sizes, they are also suitable for different ages. As we have mentioned, even the Queen of England has a rubber duckie in her bathroom. You should not be ashamed of having one in your own as well.
Anyone who enjoys a rubber duckie has the right to own one, no matter what size, design, or color!