A cultivator is a gardening tool used to ready soil for planting. These gardening utilities come with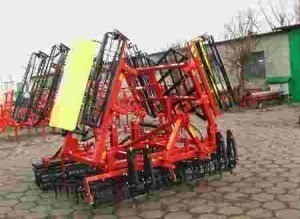 different features, and you should keep in mind that they run in unique ways. Some work with gas and others electric powered.
Cultivator Dimensions: Black & Decker GC818
The Black & Decker GC818 cultivator weighs 8 lbs and is powered by an 18V battery. It is an electric garden cultivator. The tool can be used for weeding, landscaping beds and cultivating garden beds. It has the ability to prepare dead areas for seeding.
The tines are long but narrow enough to go between plants. The Black & Decker GC818 cultivator comes with counter-oscillating tines so weeds do not get tangled up. The telescoping shaft lets you adjust to the desired length. Because it has an upright design, it reduces stress on the part of the gardener.
Cultivator Dimensions: Mantis 7250
The Mantis 7250 -15-02 3-Speed Electric Tiller/Cultivator weighs 21 lbs and is 9 inches wide. The reversible tines may be used for tilling down 10".
This same feature can be used for shallow cultivating the 2 to 3 inches of top soil. The tines can spin up to 240 RPM, allowing it to break through sod. The compact design allows the Mantis 7250 to move through narrow spaces.
To use the device, you just have to plug and then pull the trigger. It is run by an electric motor, so it is environmentally safe.
Cultivator Dimensions: Earthway 6500W
The Earthway 6500W High Wheel Garden Cultivator measures 45.8 x 3.5 x 24.5 inches and weighs 20 lbs. The Earthway has been developed for different gardening chores. It can be used for furrowing, hilling and making light plows.
The frame is made from one inch plated tubular steel. It is powder coated to ensure it lasts and is able to handle heavy duty work. The handles are oak, making it durable and adding a touch of class as well.
The Earthway has a 24 inch wheel so it can go through various models. The tool depth and handle height can be modified to suit individual perfectness. The unit requires some assembly before it can be used.
Cultivator Dimensions: Yard Machines
The Yard Machines cultivator measures 17.2 x 20.2 x 33.2 inches and weighs 28 lbs. Its tines can be adjusted from 6 to 10 ¼ inches wide. The tines are 8 inches.
The cultivator is equipped with a plow like handle so there is more control in your hand. Other features include the EZ-pull starting and a high level gearbox.
This 2 cycle gas powered cultivator is used for tilling and preparing garden soil for your plants. If something gets into the wheels, the clutch will engage, preventing an engine stall. The unit can be folded in half to conserve space.
Cultivator dimensions and specifications can be more varied than the ones cited here. Prior to buying one, you might want to do some research. Knowing something about the product will help you choose the right one.