What is the Size of a Tie Rack?
Keeping your things neat and organized is easy nowadays. There are racks and holders that can ease your burden of piling up things over the years. Having sufficient storage space is also critical for maintaining the beauty of your items, making it last long.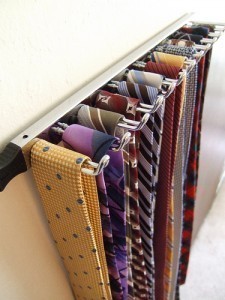 A tie rack is one of the most important storage options, with regards to men's outfits. It is difficult to store ties in hangers because they slip off. They are also not advisable to be stored in dresser drawers because they can become wrinkly. The solution is definitely, to install a tie rack in your closet room or bedroom, wherever it is most appropriate.
The good news is, a tie rack can be done in DIY fashion. With a creative skill and a few materials, you can easily put up your own and save a lot of money in the process.
The Perfect Size
Tie racks — even the store-bought ones — come in different styles and sizes. That is because choosing a tie rack depends on many personal factors. The main issues are regarding space, the amount of ties needed to be kept neatly, your design particulars, the material, and of course, the budget.
If you decide to do the tie rack yourself, you can dictate all the specs, including size. A custom-made tie rack is ideal because that means you no longer have to compromise any of your preference.
The rule of thumb when deciding on the size of your tie rack is to make sure that it is not too small to accommodate your collection or too big to take up a good size of your floor space. A simple 24-inch wood or chrome rack with a couple of hooks is ideal for those who have a pretty small collection of ties. For bigger collections, you may want a longer rack or even a full shelf that's specially designed for keeping ties.
Some Useful Tips
A tie is the focal point of a man's outfit. It is important that you take care of your collection if you do not want the money you invest in it to go to waste. Ties are not particularly cheap. They can come with a pricey tag, which should prompt you to take steps in keeping them for longer use.
Choosing your ties and picking your tie rack are both about your own, personal taste and your lifestyle. The best tie rack is different with every individual. So make sure that when choosing your tie rack, invest not just money but effort as well.