It is not easy to determine what the world's oldest mall is due to difference of opinion as to what constitutes a mall in the first place. The two leading candidates are the Covered Market in Oxford in England and the Galleria Vittorio Emanuele II in Milan, Italy.
The Covered Market
The Covered Market officially opened its doors on November 1, 1774 and is still operational. Located in Oxford, the complex is a covered structure filled with stalls and ships. Majority of the traders nowadays are food retailers.
Features of the Covered Market
Market shops that peddle fresh food are still around. Sandwich shops, bakeries and assorted shops are also in the market. The shops today are slightly bigger compared to the ones that were originally set up years ago.
However, the number of businesses in the area has gotten smaller. But it is still popular especially during the weekends. It is a favorite among tourists not just for the items being sold but for is historical importance.
The Covered Market was established in response to the untidy stalls proliferating in central Oxford at the time. 20 butcher shops were initially built at the cost of nine hundred and sixteen pounds and ten shillings.
Galleria Vittorio Emanuele II
The other contender for the title of the world's oldest mall, the Galleria Vittorio Emanuele II was designed in 1861. The mall was constructed from 1865 and 1877 by Giuseppe Mengoni. The market was named in honor of King Vittorio Emanuele II of Italy.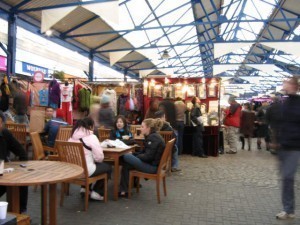 The Galleria Features
The center octagonal space has a glass dome top. Compared to its predecessors, the Milanese Galleria is bigger. It is also responsible for the glazed and enclosed appearance of the contemporary shopping center.
The Milanese Galleria is also the reason why modern malls are called gallerias. Its use of iron also inspired its utilization in other architectural masterpieces including the Eiffel Tower.
The Galleria is a famous landmark, but it is also known for linking the Teatro Alla Scala and the Duomo. These are two of the most renowned attractions in Milan. The Galleria is also known as the il salotto di Milano (Milan's drawing room). It is one of the most popular meeting and dining destinations in Milan.
Whichever of the two is regarded as the world's oldest mall is, their contributions to modern shopping center architecture cannot be denied. The Covered Market and the Galleria may not be as large as other malls, but their influence can be readily seen.