A thimble is a device commonly used for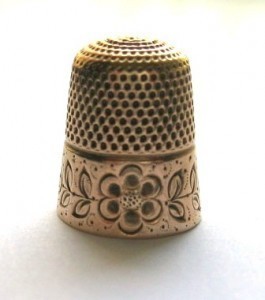 sewing, which is worn on the thumb or finger. Using this, people can prevent sharp needles from hitting the fingers in case of accidents. Without it, a sewing kit is definitely not complete because this is an all-important safety device. It is usually made out of steel, iron or brass. In addition to these basic facts, it is also good to know the different thimble dimensions.
The Dimensions of a Thimble
The standard height of a thimble is 5/8 inch. However, it comes in various widths to accommodate the different sizes of thumbs or fingers of people. For instance, a size-7 thimble has a width of 2 inches. In addition, the equivalent of a size-8 is 2 1/16 inches, a size-9 is 2 1/8 inches and a size-10 is 2 3/16 inches. Aside from these measurements, the equivalent of a size-11 is 2¼ inches, a size-12 is 2 5/16 inches and a size-13 is 2 3/8 inches.
Additional Facts and Other Interesting Details
The earliest use of a thimble can be traced back to Ancient Rome within the town-city called Pompeii. However, its modern form was actually invented by a certain Dutch metal worker in England some time in 1695. It was accepted very well right away, especially for the individuals who often used needles during that time. Before, it was referred to as the 'thumb-bell.' It was bell-shaped and worn on the thumb. These days, people wear it on the finger rather than the thumb.
The materials commonly used to make thimbles include rubber, leather and metal. Besides these materials, other items can also be used such as glass as well as wood. At some point in time, even natural materials were used like mother of pearl, bog oak and Connemara marble. Likewise, some rarer versions include precious stones such as rubies, sapphires and diamonds.
Semi-precious stones are also used to decorate the outer rim as well as the apex of thimbles, the purpose of which is to enhance their appearances. These include cabochon adornments including amber, moonstone and cinnabar. Other materials used for this purpose also include agate.
Throughout its history, a number of manufacturers concentrated on the production of high quality thimbles like Gabler Bros. of Germany, Charles Horner of the United Kingdom and Wicks of the United States. Most of these companies no longer produce such items. In the U.S., there were several manufacturers including Webster, Waite-Thresher and Stern Bros. and Co. In the United Kingdom, the notable brands were James Swann, Charles Iles and Charles Horner.