Because of their reputation for speed, convenience and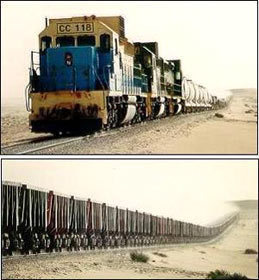 efficiency, trains are the favored means of transportation in most regions of the world. In 19th century America, the railroad industry was largely responsible for the cross-country transport of goods, materials, equipment and people, which in turn, contributed to the expansion of the American frontier. Even with the advent of other modern means of transportation such as airplanes and automobiles, the popularity of trains has not waned. In fact, ultra modern high-speed trains such as the Shinkansen, or "bullet train" in Japan is whisper quiet and could travel at an average of 275 to 300 kilometers per hour without compromising the safety and convenience of its passengers.
The more cars or wagons that are attached to a train, the more people or goods and materials can be loaded aboard it. Therefore, It goes without saying that the longest train that runs on the track at any given time is the most cost and time-efficient means of long distance land transportation at that moment. While passenger trains are typically 250 to 500 meters, or half-kilometer long, conventional freight trains can have a length of up to 2,000 meters, or two kilometers. The Guinness Book of World Records lists the Australian BHP Iron Ore freight train as the longest train to ever run on any railway. Controlled by just one driver and powered by 8 locomotives, the train was an awesome 7.35 kilometers, or 4.60 miles long consisting of 682 wagons. Starting its trip on 21 June 2001, the longest train moved more than 82 thousand tons of iron ore in Western Australia.
In certain areas in the world such as Japan or Europe where the rail system is highly developed and could rapidly take you almost anywhere aboard high-speed trains, most travelers and tourists find it more advantageous to take a train instead of a plane. Aside from the comfort, a train ride over long distances gives the traveler the opportunity to see and appreciate countryside life and scenery. The longest train journey occurred in 1917 when the Trans-Siberian Express ran from Moscow in Russia to Pyongyang in North Korea covering a distance of 10,214 kilometers, or 6,346 miles in a journey that took almost eight days to complete. Today, the longest train journey still runs along the Trans-Siberian Railway, which offers regular trips from Moscow to the Port City of Vladivostok aboard the "Rossiya" for $8,695 per person based on double occupancy. The 6,135-mile journey across the scenic Russian countryside will take about seven days to complete.