The Chedi Hotel is one of the luxury hotels located in Phuket, Thailand.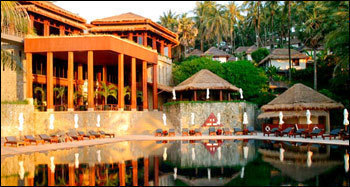 The hotel's address is at 118 Moo3, T. Cherngtalay, A. Talang, Phuket 83110, Thailand. If you're up for some fun under the tropical sun then this hotel will be a good option. However, one of the questions that usually come up when looking for good accommodations is the actual capacity of a hotel.
The Chedi Hotel Capacity
This hotel in Thailand offers a wide range of accommodations. To top things off, it has more than a hundred cottages located within a coconut grove. The grove and the surrounding area are landscaped and leads to a private beach. Other than these standard cottages, there are also seven studio suites near the beach area. The hotel also has nine deluxe suites, 16 single bedroom units, four two-bedroom cottages, 34 superior cottages with three bedrooms, 32 single bedrooms, finally they also have three two-bedroom cottages located at the hillside.
Room Facilities
The Chedi Hotel offers its guests with top of the line facilities in its cottages and hotel rooms. Standard room amenities in this hotel include on call medical service, laundry service, personal safe, complimentary tea and coffee making facilities, 24 hour room service, mini bar, Internet access, IDD telephone system, and a satellite TV. The deluxe rooms, suites, and superior rooms have extra features and facilities other than the ones mentioned here.
Hotel Facilities and Services
The Chedi Hotel offers its guests some of the best facilities in Thailand. The recreational facilities of this hotel include a car rental, library, gift shop, boutique, water sports facilities, tennis courts, golf courses, swimming pool, sun beds, sun decks, and a spa. These recreational facilities add value to the service that visitors usually get.
Other than catering to the recreational needs of guests, this prime hotel in Thailand also keeps in mind the business needs of some of the guests who stay here. The hotel provides conference facilities that are truly state of the art. It also offers secretarial services along with the many meeting rooms that are at your disposal.
To make things even better, The Chedi Hotel also offers tours and packages. The hotel can arrange ecological tours, a safari, trekking, and rafting activities. For guests who are especially fond of the water, the hotel can arrange snorkeling tours and trips via a speed boat. You can also hop on one of their other cruises or perhaps just go kayaking. Other than the tours and recreational services, the hotel also offers transfer services and a car rental.