Smallest Cities in Europe
Europe is one of the 7 continents of the world and it comes in second as the smallest of all these continents. Its total area is pegged only at 3,930,000 square miles or about 10,180,000 sq. km.
This means that by total area, it covers only about two percent of the planet's surface area. Small though it may be, it is a continent abundant in historical sites and sights; with cities and towns teeming with beautiful architectural landmarks.
Even its smallest cities are not without their own magnificent monuments that played a huge part in the continent's rich and colorful history.
Some of the Smallest Cities in Europe
1. Hum, Croatia – By population, Hum is considered as the smallest city in Europe. Listed in the Guinness Book of World Records as the world's smallest town, it only had a population of seventeen inhabitants back in 2001 but it now has grown to twenty-three.
It is part of the peninsula of Istria and its most distinct features are the Parish of St. Jerome and the Bell Tower. There is also a small museum within Hum where sample of Glagolithic literary writings are on display.

2. Vatican City – This walled city is part of Rome and has a population of approximately only eight hundred inhabitants. It is an ecclesiastical state governed by the Pope whose official home is known as the Apostolic Palace.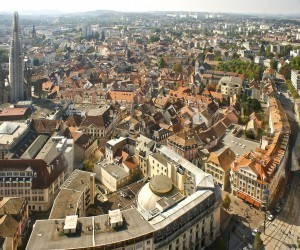 Its total area is pegged at forty-four hectares or about one hundred and ten acres. It has a beautiful garden as well as several magnificent architectural structures such as St. Peter's Basilica and the Sistine Chapel where Michelangelo's masterpiece is the fresco on the chapel's wall, the Last Judgment.

3. St. David's – Officially called St. David's and the Cathedral Close, this is Britain's smallest city with a population of approximately less than two thousand. Located in Wales in the county of Pembrokeshire, it is where the remains of the country's patron saint, St. David is kept.
The city surrounds the Cathedral of St. David which used to be a popular pilgrimage destination back in the Middle Ages.
What is distinct about this city is that it is within the perimeters of a national park, the Pembrokeshire Coast National Park. Among its attractions are galleries where different works of art are on display and landmarks such as the Celtic Old Cross and the Tower Gate constructed back in the thirteenth century.
For travelers, there are hotels where accommodations are available all year-round. Pubs or bars can also be found in the city as well as a number of restaurants.